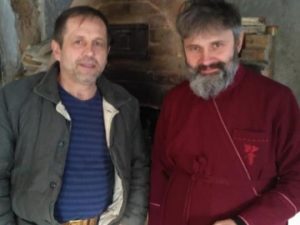 The Archbishop of Simferopol and Crimea Clement today, on April 23, 2018, was not allowed to visit Ukrainian political prisoner Vladimir Balukh in pre-trial establishment (SIZO) of Simferopol. Earlier, Archbishop Clement received the status of public defender of Balukh and has the right to visit him in places of detention.
However, the employees of the SIZO demanded from Clement the resolution of the court as a separate document in accordance with Article 49 Part 2 of the Code of Criminal Procedure. At the same time, he did not receive an extract of the court session at which the Razdolnensky District Court granted the petition of the Ukrainian lawyer to include Clement in the process as a public defender of Balukh.
Recall, that on March 19, 2018, Vladimir Balukh, after the unjust and illegal sentence regarding the criminal case against him, declared an indefinite hunger strike.
On April 2, 2018 Razdolnensky District Court granted the petition of the defense of Ukrainian activist Vladimir Balukh about the appointment of Archbishop Clement (the head of the Crimean Diocese of the Ukrainian Orthodox Church of the Kyiv Patriarchate) as a public defender. The basis for this was the need to support the psychological and spiritual state of Balukh, broken by the situation around him.
On April 20, it became known that the administration of the pre-trial establishment of Simferopol had decided to place Vladimir Balukh in a disciplinary cell for remand prisoners (kartzer) "for violating the rules of internal order."