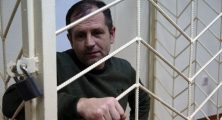 The administration of the Simferopol pre-trial establishment (SIZO) decided to place Vladimir Balukh in the disciplinary cell for remand prisoners (kartzer) "for violating the internal regulations." The activist told his lawyer about this, who visited him on 20 April.
In the punishment cell the Ukrainian will stay for three days. The decision on placing a person in a kartzer is taken by a commission from the detention centre staff. Prisoners in a disciplinary cell are prohibited from correspondence, visits, except visits of a lawyer, as well as the purchase of food and basic necessities. They do not have the right to receive parcels and transfers, and a bed can only be used in specially designated hours at night.
At the same time, Baluck has not yet been placed to the disciplinary cell, as because of the overcrowding of the pre-trial establishment there is a waiting list for serving such a punishment.