Mr Aleksandr Kostenko's arm, broken during the tortures, has not restored mobility yet.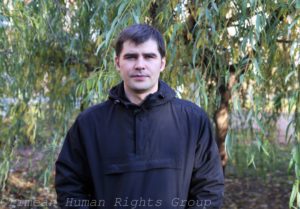 Despite the operation made after his releasing from the Russian penal establishment, the arm moves just partially. This has been told by Mr Aleksandr Kostenko, a former political prisoner, to the Crimean Human Rights Group. As he said, the arm, broken yet in the February of 2015, was not treated in fact when he was in prison.
After his release from the Russian penal establishment, Mr Kostenko was examined by Ukrainian doctors. They detected the following traumas: a closed left forearm dislocation, an old coronoid fracture with cubitus bones displaced, a rupture of ligaments, a post-traumatic deforming arthrosis of left arm. The arm was operated to correct the malunited bones and repair the ruptured ligaments. Now Aleksandr is on aftertreatment.
The doctor warned me that if the full arm mobility did not recover in six months, an artificial elbow joint would have to be installed, Aleksandr said.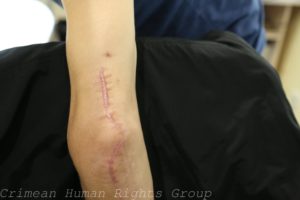 Due to the health issues the young man cannot find job, and restoring of all arm functions would take at least several months more.
Aleksandr told the CHRG about the circumstances he had been so maimed, and also named those whom he suspected of this crime.
"On February 5th 2016 about 04.00pm I was at home in Simferopol, where my parents lived. When I left out, there were two men at the entrance. One was wearing khaki pants, the other – a dark T-shirt. One of them punched me in the face, the other hit in the stomach.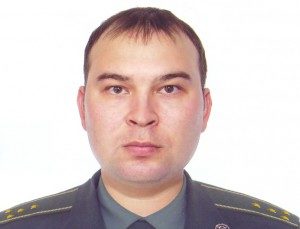 Then they rushed me and dragged off to a small bus parked nearby. Antonina, our next-door, started shouting. There were four more masked men in the bus. One of them put a package on my head. This was Andrey Tishenin, a FSB major, and a SBU man in the past.
My arms were clamped. They started beating me, and I was short of breath in the package, and then felt that my nose and an ear were broken. The vehicle was moving while I was being punched up. One of attackers said, 'We have finally caught you, Maydan man'. When the vehicle started moving, one pressed me with his foot to the floor, and I was lying and gasping. They said that I should tell them everything about acts of terror under preparation and my accessories.
I was mainly punched and kicked in the head and in kidneys. In about 20 minutes the vehicle stopped in the wooded area, I believe this was a settlement of Dzerzhynsky, Simferopol District. I was pulled out, forced to knee, then punched up again, and finally unpacked. Then I saw trees in front of me because I was back to the road. One of them held a pistol to the back of my head and explained that I had to tell them about murders of BERKUT men at Maydan, and acts of terror being prepared in Crimea. Then the pistol fired at my ear, and was held again to the back of my head. I was threatened that I would disappear without any trace unless I told them everything. Then the trigger released though there was no bullet in the tube. The package was put on the head again, I was again punched up and then shoved in the vehicle.
I teethed up a hole in the package not to get off the breath and heard how they were saying each other, 'Let's go to a Tatar to the base'. I think I was moved towards Sevastopol, more than likely, to a private house of Shambazov. Because then, when I had been in that house already, I noticed a big road junction and a bridge through the window, that was likely to be at Sevastopol highway. On the way to that house, I was regularly punched up, and one of the masked men had a Russian pronunciation, uncommon for Crimeans.
When the vehicle entered the private area, I was dragged into the house hall, forced to knee, being punched up all the time. There was a plastic clamp on my hands. Wires were tied to the little fingers. And then I understood that the electric current was wired because I felt pain everywhere. Then I was again punched up, and then the current was wired again. All this lasted for 10-15 minutes. Then someone entered the room. I was placed on the bedside chest, and he started saying that my task now was to survive, and that I had to tell for video what they needed.
He wanted me to tell them about a composition of terrorist groups acting on the territory of Crimea, and hidden storages of weapons. Then we walked down – to the basement where there was a specially equipped room. It seems to have been the same basement where Yevgeniy Panov had been tortured (there are similar walls on the video with Panov). My head was unpacked, and I recognized those two who had caught me in the yard. They were masked and with batons, though wearing the same clothes as before.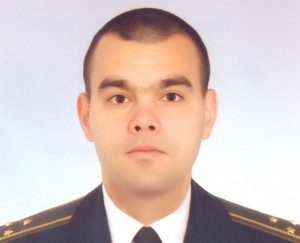 They tied wires to my thumbs. The wires were connected to the device that had a toggle switch and was connected to the socket. The man in green pants switched on the device and I was electrocuted for about three minutes. Then Artur Shambazov, a former SBU man and a FSB man now, entered the room. He was with a video camera, masked and wearing black clothes. But I recognized him by eye shape. While working in the police, I had often met him and knew him as well as Tishenin very well.
Shambazov said, 'I will put questions, and you shall answer, but if we do not like the answers, torturing will go on'
Then Tishenin entered the room. He was recording me, while Shambazov was putting the questions. They possessed the information about the situation in Kyiv. I tried to escape speaking in any possible way. My answers did not satisfy them, and they left. And the two masked went on torturing. With some time passed, Tishenin and Shambazov entered again with camera. They put questions, and my answers did not satisfy them again. Shambazov became angry, and those two put me on the floor, face down, and batted.
Shambazov took some scissors from the table, they looked like a garden pruner, and said that he would cut fingers on my hands. I made fists, then Shambazov pressed my back to the floor with his knee, took the clamp away, grabbed me by the hair and the left arm wrist, and jerked sharply my arm back. I felt a very strong, acute pain in the elbow at the moment. I could not move any more because of that excruciating pain in my left arm. I got the shock of pain. Then Shambazov asked me whether I would speak or would keep on behaving like this. At that moment I was unable even to move due to the pain, apart from speaking. This drove Shambazov even madder. And he stepped on my elbow. Then I could not bear this damnedest pain any more and started shouting. They started punching me again thereby. When Shambazov left, I was seated again, with hands clamped back, and electrocuted. One of those who were beating me wanted to pierce my ears with knife to put wires through them. When he took the knife I started rotating the head. My face was in blood, and I could see only with the left eye because the blood from eyebrow was flooding my right one. So not to get dirty, they just rolled the wires on my ears and switched on the current. I felt a splitting headache, suddenly nauseated, went giddy and fell down, with my nose bleeding. Then a man, also masked, with a small wooden case entered the room, wiped out my blood, and gave me ammonia to smell, brought me round, so to say, and then left, with everything going on again.
Then I was seated on the bedside chest, and hands were clamped in front, Shambazov and Tishenin left. Wires were tied to the fingers again. And I was electrocuted. It was such a pain, irradiating specifically into the fractured arm.
Then they decided to stop torturing because Shambazov called them. I heard as he said, 'Let's finish, as there is more than enough evidence against him, we will 'close him up' in any way.'
Then my hands were cuffed, and I was dragged up by winding stairs where there was a window through which I noticed a large bridge. I was hanged by the cuffs on the second door button, arms up. In front of me was a door to the hall where they were drinking tea. I was hanging like this till the dawn and saw private houses through the window.
When the sun rose those who had beaten me, came and started explaining that now I would go to the Investigation Committee and sign the documents. Shambazov told me that if I behaved bad, then I might return back to the basement though unlikely to survive afterwards. I was still hanging on the door. There was a small chest next to me, with a brick lying aside. They were standing at my left, and when I asked to inform my parents about my detention, one of them took the brick and hit me in the temple. This was that one in green pants and with Russian accent. He said that I must not put questions and that he did not consider me a human. Then they put a package on my head, tightened hands behind, and dragged off to the vehicle. Shambazov told me that I was being transported to the Investigation Committee. But first I would be released and my walking along the street would be recorded, and then a vehicle would drive up to me, as if I had been just detained.
I think I was left in the street where the Kievsky District Prosecutor's Office might be located. Though what I could see was only the fence. When I was walking I was holding on it because after tortures I could hardly walk. Then I was caught, handcuffed, with everything recorded, and convoyed to the Investigation Committee. I was brought to the office on the second floor. Investigator Odarchenko was there. He did not introduce himself but then I got his name from the case files. Odarchenko started telling me that a lawyer would come in a while, and if I did not sign all the documents, my family would suffer because of me.
The documents were printed for me, and then Ms Poluyanova, an appointed counsel, came. Those two who had tortured me, were also in the office. They were beating me at the lawyer's presence, and my face was in blood. I refused signing. The lawyer told me that if she left, and I did not sign the documents, she would not be able to help me. I was threatened that my child would grow in the orphanage. If I had signed, my relatives would be told where I was. I asked the lawyer what article I was charged under. She told me that it was RF CC Article 115.1. I signed everything without reading. There are traces of my blood flowing from the face on that record sheet.
And only then, they called the father, told him that I had been detained, and the investigator called FSB men. Former SBU men, Aleksandr Kulabukhov, and Vladimir Shevchenko, whom I had also known before, came. They convoyed me to the injury care center. They pushed doctors to do everything quickly, though the doctors told them that I needed a surgery and an examination. Eventually, the doctor put the arm in plaster and said that it was to be taken away in three weeks. However, nobody took it away in time.
On February 6th 2015 I was convoyed to the temporarily holding facility, and on February 9th I was moved to the Detention Center No 1. There I was put into the 'press-cell' where I was beaten by the prisoners. I as Maydan participant was called 'punisher' in that cell. Then I was moved to another one. Among those who were at that time together with me in the Detention Center, are witnesses who may verify my battery. My entire body was in bruises due to hits and kicks, the face was smashed, and there were prints of footwear on the back. Since the plaster was not taken away in time, the plastered arm started turning black. Three months later, in early May, the plaster was taken away, upon my request, by cell-mates in the Detention Center.
With the sentence passed, on May 22nd 2015 I was unexpectedly moved to the 6th City Hospital of Simferopol and immediately operated. The hospital was encircled with 27 law enforcement unit men, including 22 from the FSO (Federal Security Service) and 5 from the UFSIN (Federal Penal Service Department). I was handcuffed and feet-chained and walked across the entire hospital under armed escort. Surgeon Fedulichev operated, with the operation being video recorded by two FSO men.
Once operated, I was immediately sent back to the Detention Center though I was still under the anesthetic. In the Detention Center I was placed in the medical unit cell that differs from a standard cell only with one-tier beds. There were two more men in the same cell with me. When the anesthetic effect finished, I was suffering severe pains, the blood came from the plaster because a pin was installed into the bone. I was to receive an anesthetic injection in three hours but it was made only the next day. All this time I was suffering incredible pain, I felt terribly sick, vomited, and could hardly breath.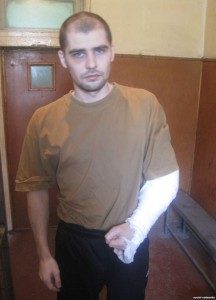 On October 5th I was convoyed from the Simferopol Detention Center. After 18 days of convoying I arrived in town of Kirovo-Chepetsk, Penal Establishment FKU IK-5, on October 23rd 2015. I was not treated in the penal establishment in fact, though I could not almost move my arm. I was unable to have a proper wash, to fasten my clothes and shoes, and even reach my nose with hand.
The doctor in the penal establishment did not grant me any restrictions for work, so I had to clean snow, break ice with breaker despite the damnedest pain,' Mr Kostenko told.
Aleksandr now is on aftertreatment and hopes that the arm mobility would restore without additional surgery and implanting.
He has applied to the Ministry for Temporarily Occupied Territories and Internally Displaced People for granting a state aid to the people unlawfully deprived from liberty by the Russian authorities on the occupied territory. According to CMU Resolution No 328 of 18 April 2018, and Order of the Ministry for TOT and IDP No 106 of 18 October 2018, Aleksandr is entitled for such aid as victim of unlawful politically reasoned criminal persecution in the occupied Crimea. The political reason of the occupational authorities for falsifying the case against Aleksandr is stated in the sentence itself that he has attached to his application to the ministry since he was judged in fact for his participation in Maydan, supporting the protesters. In addition, Ms Natalia Poklonskaya, former 'Prosecutor' of Crimea, used this case for her political campaign to be elected to the State Duma of RF Federal Assembly, 7th Convocation.
 FSB – Federal Security Service of Russia
SBU – Security Service of Ukraine
 Maydan – word, literally means a square, has become a symbol for the Revolution of Dignity in Ukraine, 2013 – 2014, which epicenter was Maydan Nezalezhnosti (Independence Square) in Kyiv
 BERKUT –a  special police unit in Ukraine
Criminal Code of Russian Federation
 Intended infliction of light bodily harm