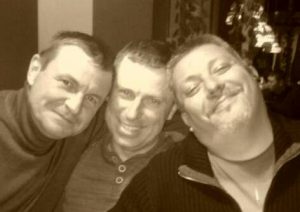 Sevastopol citizens Vladimir Dudka, Dmitry Shtyblikov and Alexei Bessarabov who are accused in the preparation of "sabotage" in Crimea, "the Kiev District Court" of Simferopol extended the arrest for another two months, until 8 September. Detained in November last year, citizens of Ukraine for 8 months are behind the bars.
The new regulation on custody of Crimeans was issued by a "judge" Alexei Tihopa today on 4 July, 2017.
As it became known to the Crimean human rights group, that three defendants in the "case of saboteurs" were brought to "trial" from the detention centre in Simferopol.
Recall, that on 2 May, 2017 "The Kiev District Court» extended preventive measure in the form of detention for persons involved in the "Ukrainian saboteurs" case Vladimir Dudka, Dmitry Shtyblikov and Alexei Bessarabov until 8 July.
Vladimir Dudka, Dmitry Shtyblikov and Alexei Bessarabov were detained on 9 November, 2016 in Sevastopol. According to the FSS, they are participants in the sabotage-terrorist group of the Ministry of Defence of Ukraine.
Crimean Human Rights Group said that Ukrainian citizens detained in Crimea in the period from August to November 2016 in the case of so-called "Ukrainian saboteurs" (Evgeny Panov, Andrey Zahtey, Redvan Suleymanov, Vladimir Prisichб Dmitry Shtyblikovб Alexei Bessarabщм, Vladimir Dudka, Gleb Shabliy, Alexei Stogniy), are imprisoned for political reasons with violation of fundamental rights and freedoms and are political prisoners.