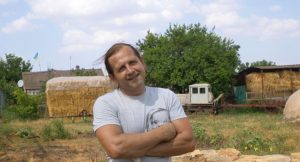 Today, on 22 December, in the so-called "Supreme Court" of Crimea the consideration of complaints against the court decision on measures of restraint in the form of detention of Vladimir Balukh took place. The activist was taken to the courtroom from the pre-detention centre. The complaint was considered by the "judge" Boris Balakhonov.
The appeal was rejected by the court and Vladimir Balukh remained in custody until 6 January 2017.
Earlier, on 8 December the Russian Federal Security Service agents raided the homes of Ukrainian activist Vladimir Balukh and his mother. After the searches the activist was detained. On 12 December Razdolnensky district "court" of Crimea has chosen measure of restraint for the Crimean citizen in the form of detention for a period of 30 days. The wife of the Ukrainian reported to the Crimean Human Rights Group (CHRG) that after the arrest the state of health of Balukh deteriorated and the back pain increased. The ward in the pre-detention centre which contain Balukh is overcrowded (14 beds for 24 persons).
Let's recall that Vladimir Balukh is accused of "illegal possession of weapons, its main parts and ammunition" (Art. 222, part 1 of the Criminal Code of the Russian Federation). CHRG stated about the explicitly political persecution of the Ukrainian activist. According to experts of the CHRG, in the actions of the judiciary and law enforcement agencies gross violations of not only international but also Russian criminal procedural law (which is de facto applied in Crimea) were found