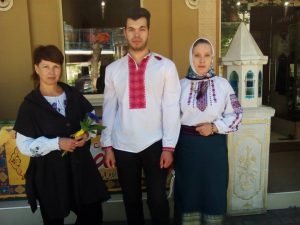 As it became known to the Crimean human rights group, four activists of the Ukrainian Cultural Centre of Crimea were summoned for interrogation to the Crimean department of the FSS, in Simferopol, at 13 Franco Boulevard: Leonid Kuzmin, Mikhail Batrak, Galina Balaban and Alena Popova.
On 21 March, 2017, the FSS investigator summoned Alena Popova, activist of the Ukrainian cultural centre for questioning. The rest of the activists have already been questioned.
FSS investigator Chumakov told the Crimean citizen that they pass as witnesses in Veldar Shukurzhiev case, who is one of the organizers of the Ukrainian cultural centre in Crimea, and regarding which allegedly was "opened a criminal case on an article on extremism". Information about this is specified by the Crimean human rights group.
As the CHRG learned, the FSS investigator exerted psychological pressure during interrogations against Ukrainian activists. In addition to Shukurdzhiev, the investigator was interested in other activists, namely, the leader of the "Evromaydan-Crimea" movement, Andrei Shchekun and the Crimean journalist Lyudmila Shchekun.
The Ukrainian cultural centre of Crimea is not a political organization. The centre was created by activists to preserve and popularize the Ukrainian culture on the peninsula. However, de facto acting in the Crimea, the Russian authorities are constantly exerting pressure on the participants of the Centre: they prohibit the holding of public events, call for interrogations and "conversations" with law enforcement agencies, and warn about the inadmissibility of extremism, and so on.
Recall that the Simferopol authorities denied Ukrainian activists during the holding of a public event on the occasion of Taras Shevchenko's birthday on 9 March, 2017. Head of the Ukrainian Cultural Centre in Crimea Leonid Kuzmin was sent an official document entitled "Warning of the inadmissibility of violation of the law" by the Simferopol Police Department.