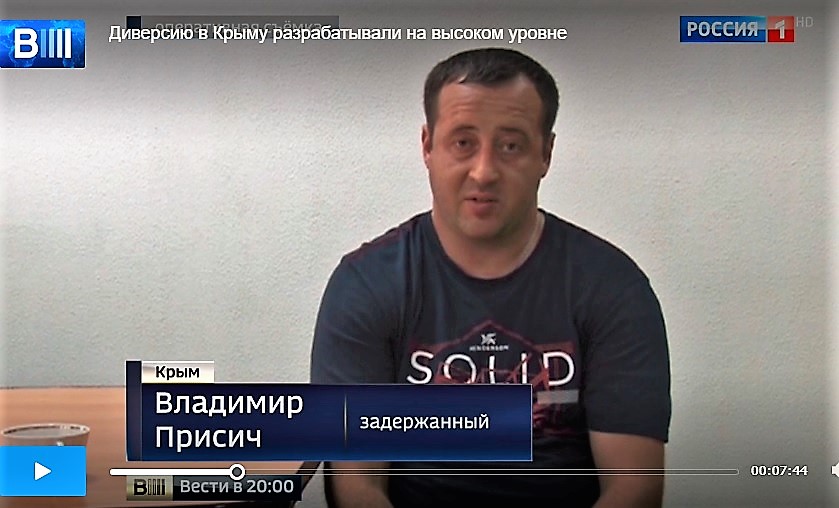 On February 5, 2018 The European Court of Human Rights received a complaint from Ukrainian citizen Vladimir Prisich, who was called the "spy of Ukrainian intelligence" in Crimea in August 2016 by the FSB of Russia in the media but after investigating the illegal actions, the "court" sentenced him to three years in prison for possession of drugs on May 18, 2017.
The lawyer of the Moscow City Lawyer Association, Sergei Nasonov, stated in his complaint that the Ukrainian's right to a fair trial, as provided for in Article 6 of the Convention for the Protection of Human Rights and Fundamental Freedoms, was violated due to falsification of evidence, the court's refusal to analyze the arguments of the applicant (Vladimir Prisich) on this issue and the use of unacceptable evidence in justifying the sentence.
During the trial, the defense of Prisich stated that drugs in his car are a provocation by the FSB.
During the trial it became clear that the truck driver from Kharkov, Vladimir Prisich, was detained by officers of the Federal Security Service of the Russian Federation on August 13, 2016, at 11:30 AM in Sevastopol, where he arrived by truck through the Kerch ferry crossing. During the detention, the Ukrainian car was thoroughly inspected by the FSB, there were no drugs in it, and personal belongings were withdrawn. After the detention, FSB officers took the Ukrainian to Simferopol. At the same time they seized the car keys from Prisich. The car, which remained in Sevastopol, was not sealed, was not guarded and was unattended for 9 hours, after which drugs appeared in the car, to which Prisic has nothing to do. According to the defense, these circumstances indicate obvious gross violations of the procedural order of obtaining evidence.
The next day, on August 14, 2016, fearing for his life and health, Prisich confessed to espionage against the Russian Federation under the pressure of FSB officers. His "confessions" at the end of August were broadcast on the state television channel "Russia 1" and other media.
However, the Ukrainian refused these testimonies as soon as his relatives signed an agreement with independent lawyers. Prisich at the court said that he was forced to undergo electric torture under torture by confessing to "espionage" in favor of Ukraine.
On May 8, 2017 "judge of the Gagarinsky District Court" of Sevastopol Pavel Kryllo sentenced Ukrainian to three years imprisonment with serving a sentence in the colony of the general regime for the possession of drugs (Part 2, Article 228 of the Criminal Code). "The Judge of Sevastopol City Court" Vasily Avkhimov on August 3, 2017 upheld the verdict.
Now the Ukrainian is in the Russian colony of Kabardino-Balkaria (Federal state institution Prison-1, Chegemsky district, Kamenka village, D.A. Miziev street, 1), where he is serving an illegal punishment.