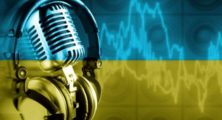 In March 2021, the Crimean Human Rights Group conducted a new monitoring of the FM radio broadcasting in the north of the peninsula. Compared to the previous monitoring carried out in December the situation with the Ukrainian signal propagation improved.
Last year in December, the signal of Ukrainian FM radio stations was recorded only in 7 out of 19 populated areas. This March, Ukrainian broadcasting was available in 13 locations from the same list.
It is still impossible to hear Ukrainian FM radio stations in Solenoe ozero, Ermakovo, Pridorozhnoe, Zarechnoye, Dzhankoy, Ovoshchnoe.
In all these locations, Russian FM stations broadcast their programs on Ukrainian radio frequencies.
In Lobanovo, Martynovka, Zavet Leninsky, Krasnoarmeysky, Vishnevka, Zelenaya Niva, Krasnoperekopsk, Ishun, only one Ukrainian radio station can be broadcast.
You can listen to 2 radio stations in Voinka, Novoaleksandrovka, Armyansk, 3 radio stations in Istochnoe, and 6 Ukrainian FM radio stations in Predmostnoye.
On the occupied peninsula territory near the Chongar border checkpoint, 5 Ukrainian FM radios and 3 Ukrainian radio stations are available in Crimea.
Let us recall that earlier the Crimean Human Rights Group reported about a new TV and radio tower was installed near the Chaplynka border checkpoint in the occupied territory of Crimea.
CHRG monitors checked via car radios, which Ukrainian FM radio stations can be listened to in 19 locations of northern Crimea: in the towns of Armyansk, Krasnoperekopsk and Dzhankoy, as well as in the villages located along the main motor roads: Ishun, Zelenaya Niva, Vishnevka, Krasnoarmeyskoe, Istochnoe, Novoaleksandrovka, Martynovka, Solenoe ozero, Zavet-Leninsky, Yermakovo, Pridorozhnoe, Predmostnoe, Zarechnoe, Ovoshchnoe, Lobanovo, Voinka.
At the time of the monitoring, the broadcasting of Ukrainian FMs from Chaplynka in northern Crimea was jammed by the following Russian radio stations:
Culture Radio frequency (95.3) jammed by Crym (Crimea) Radio;
Peretz FM Radio frequency (96.4) jammed by Morye Radio;
Meidan Radio frequency (102.3) jammed by Sputnik Radio;
Haiat Radio frequency (103.5) jammed by Mayak Radio;
Promin Radio frequency (106.4) jammed by Vatan Sedasy Radio.
The broadcasting of Ukrainian FMs from Chongar in northern Crimea is blocked by the following Russian stations:
Ukrainian Radio frequency (100.7) by Sputnik Radio;
Promin Radio frequency (102.6) by Vesti Radio;
Armiia FM Radio frequency (103) by Crym (Crimea) Radio;
Radio NV frequency (104.1) by Morye Radio;
Crym.Realii Radio frequency (105.9) by Vesti Radio;
Kherson FM Radio frequency (107.8) by Vatan Sedasy Radio.
The Crimean Human Rights Group regularly conducts such monitoring in the territory of northern Crimea. The results indicate a systemic violation of the Crimean residents' right to information, specifically, to listen to independent Ukrainian media. Blocking of Ukrainian websites and radio stations by the Russian Federation has also been criticized in the UN General Assembly resolution "Situation of human rights in the Autonomous Republic of Crimea and the city of Sevastopol, Ukraine" adopted on 16 December 2020.
These actions of the occupation authorities must be stopped immediately and the broadcasting of Ukrainian radio stations in Crimea must be restored. Ukraine needs to take a more active position in the search for international and legal mechanisms in order to hold Russia liable for such actions.