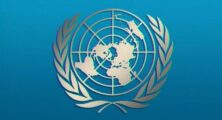 The participants of the 75th session of the UN General Assembly on December 7, 2020 adopted a resolution on the problem of militarization of the Autonomous Republic of Crimea and the city of Sevastopol, Ukraine, as well as the parts of the Black Sea and the Sea of Azov.
Russia was urged "immediately, completely and unconditionally to withdraw its military forces from Crimea and end its temporary occupation of the territory of Ukraine without delay"
The resolution included the positions proposed by the experts of the Crimean Human Rights Group.
For instance, the provisions on combat training for children and military patriotic education were included into item 9 and theses in the resolution preamble.
The UNO calls upon the Russian Federation "to refrain from establishing educational institutions that provide combat training to Crimean children with the stated aim of training for military service in the Russian armed forces, to refrain from establishing combat training courses at Crimean schools and to cease efforts to formally incorporate Crimean educational institutions into the "military-patriotic" education system of the Russian Federation".
The resolution was supported by 63 countries, 17 countries voted against, including Armenia, Belarus, China, Kyrgyzstan, and Russia, and other 62 abstained.
We would remind that the Crimean Human Rights Group together with other human rights organizations, and the Ukrainian Prosecutor's Office of the Autonomous Republic of Crimea submitted the collected evidence of the military crimes of the RF in the occupied Crimea to the International Criminal Court (ICC).
The resolution in full in Russian may be read at ссылке.
In English, at ссылке.
Session video, at Видеотрансляция заседания.