Mr. Taras Malyshevsky, Consul General of Ukraine in Rostov-na-Donu, visited last week, in May, ten Ukrainian nationals in Russian pre-trial detention centers. These are six people of the Yalta 'Case of Crimean Muslims' group: Muslim Aliyev, Vadim Siruk, Emir-Usein Kuku, Inver Bekirov, Arsen Dzhepparov, Refat Alimov. They are currently being kept in the Rostov-na-Donu pre-trial detention center and the Rostov region waiting for the appeal against the Southern Military Area Court verdict. The consul also visited three people of the Belogorsk group: Ayder Dzhapparov, Riza and Enver Omerovs.
How these meetings were and about a consistent Consulate work on supporting the Ukrainian political prisoners from Crimea, Taras Malyshevsky told the Crimean Human Rights Group.
– I wanted to see them as soon as possible to have a direct contact with them before the first hearing. The tenth one is Mr.Nariman Memedeminov, he has already had an appellate session of the Supreme Court, his sentence has not been changed, after this verdict within 50 days he will be sent to one of the Russian Federation penitentiary institutions to serve an illegal sentence. We did not know him, and I wanted to see him in order to keep relations in the future, "the Consul General told the Crimean Human Rights Group.
What major problems, do you think, do our political prisoners have now?
— The issues of health, and protection of political prisoners are of major significance. After meetings with detainees, I talk to the head of this or that institution, ask questions about the problems people are facing. There are about 700 prisoners in the Pre-Trial Detention Center no 1, and 90% of our guys are there. Most of them understand where they are, they know that it will be difficult and hard. They say they will hang in and ask not to upset their family with details. My task is to deliver information about prisoners who have really serious problems. These are usually people aged 50 and older, when health makes itself felt, especially in the pre-trial detention center conditions.
For example, Enver Omerov from the Belogorsk trio. I have known him since he came here to the trials as an ordinary listener with a support group a year and a half ago. We were sitting in the same room, talking during breaks. We are the same age and had a lot in common beyond the process. Now, unfortunately, I see him in the penitentiary system. He, like many others, is facing very severe sentences, that the Russian authorities are rendering to the people involved in the so-called 'Hizb ut-Tahrir' case. His health has deteriorated greatly, and I emphasized this in a conversation with the pre-trial detention center administration. At the time of our conversation, Omerov was in a solitary confinement because he was found to have prohibited items – needles. This is the thing you really need, on the one hand, but it is forbidden, on the other hand, and this is a reason to send a 60-aged person to the punitive confinement for 15 days. They forbid to wear own clothes, and handed prison ones. This is very depressing, because the people in the pre-trial detention center have not yet been convicted, they are only defendants, so they may wear their own clothes, shorts, if it is hot, and jackets, if it is cold. And here I see a man who is well known to me, coming in the overalls that are issued to those who are in the solitary confinement. Conditions there are terrible: the bed may unfolded from 9 pm to 5 am, then it is locked to the wall. And then – only the cement floor, and 18 hours nowhere to sit, you can only walk in a very limited space. Enver said that he was not able to walk for so long, so he just lay down on the cement floor. What we have read about the GULAG Soviet system in the books by Solzhnitsyn, Levko Luk'yanenko, still exists in the RF, nothing has changed. Omerov's 15 day will end on May 27 and then he would be moved, supposedly, to a standard cell, where the conditions are also bad.
How many political prisoners from Crimea are now in your Consulate area?
— We have about 40 political Crimean prisoners. We are recording a file for everyone, monitoring the situation. I know many personally and try to visit everyone once in one and a half – two months. But this is not always possible – no consul visits during the court proceedings. For instance, 'Bakhchisarai group' – it included 8 persons. The hearings of their case were held in February, March, and April, 3-4 times per week. Then it was a pause due to anti-epidemiological actions. Now the sessions will be held again during the work week, the next one to be on May 27.
How are usually the meetings held? What do the political prisoners ask about, what do they complain over?
— Consular meetings are held under the close supervision of an employee of a Russian penitentiary institution, who stands nearby and records everything on video, with a camera attached to his uniform. He does not interfere, we can sit for an hour and talk at a short range. Now I am attending the meetings in a mask, because I have come from freedom and I have a lot of contacts. As the recording goes on, we "filter" our conversation so as not to endanger anyone else. Everyone is grateful for the support provided to the prisoners by their relatives, the Crimean community, fellow believers, and fellow villagers. They thank also to human rights activists and journalists who are keeping this subject 'hot' both for the Ukrainian and global community. My colleagues, surely, keep this subject actual at the international platforms in Strasbourg, Geneva, New-York, but without the support of the community and the human rights movement their effort is not sufficient. I am constantly pointing out, 'Guys, should you know how much you are supported and how much you are talked about and heard!'.
We, the representatives of the Consular Service of Ukraine, are incredibly comforted that this issue attracts the attention of our public, human rights activists, and political circles. The information about those detained in Crimea is being constantly updated. My colleague, the consul, last week visited Arsen Dzhepparov, who is being held in the pre-trial detention center in the city of Shakhty, Rostov Region. There are many Muslim prisoners from the North Caucasus in the pre-trial detention center in the Rostov region. Dzhepparov said that they were looking at the Crimean Tatars and the entire Crimean Tatar community with great respect, because there was no ethnic community or minority in Russia that would support the representatives of its people in this way.
Do political prisoners ask you about the exchange?
The topic of exchange is the most difficult issue we raise during the conversation. If in resolving issues related to health, I can still do something, press some levers, then in this matter I can only pass on the comments we hear from Ukrainian government officials and provide examples of work we do together from the Ministry of Foreign Affairs. I tell the guys what's going on, what meetings are held on this issue. For example, the details of a recent meeting between Volodymyr Zelensky and Mustafa Dzhemilev, Refat Chubarov and other members of the Crimean Tatar community. I have told them about the MIA decision to establish a public platform to discuss the issue and find an integrated decision at the high level.
Questions about a possible exchange are raised by everyone. But for those who have spent 3-4 years already in custody, the desire to hear something new is less. Though these people have not been even convicted yet, they still have 12-15 years in prison ahead. Emir-Usein Kuku told me that he had little hope that anything would change now. "We will hang in and stay as long as we need to be released." But they are asking us and the Ukrainian authorities to support their families in every possible way. Everyone has a few children left, often elderly parents, wives, on whose shoulders it all fell.
How does Oleh Prykhod'ko, a Ukrainian activist from Crimea, feel after he has been convoyed to the Rostov-na-Donu detention center?
— Mr.Oleh Prykhod'ko was first kept in the 'single man cell', and then he was moved to a larger one. I asked the center administration to keep him first in the separate cell, because he is a person who expresses his views openly, directly and harshly. And in any cell, there are not only political prisoners, but also criminal elements, and being in such an uncontrolled environment, he could be in danger of death. Therefore, I asked to check carefully those cellmates whom Oleg Arkadyevich could be placed with. Today I know that he is in the same cell as Server Mustafayev, the two of them will not allow themselves to be offended. I plan to see him in the coming days and look forward to this meeting. Last time he drew a number of wonderful sketches – images of Crimean mosques and Orthodox churches, and asked to send them to Ukraine. According to the conditions of the institution, I can't take anything from him at once, everything must be censored. I left stamps and envelopes for him to send the sketches to us or to Ukraine, but so far they have not appeared anywhere, so at the meeting I want to ask, in particular, about the fate of these drawings. He did not complain about his health, he asked for cigarettes a lot, we transferred the funds to his account in the pre-trial detention center. In society, the attitude to smoking is clearly negative, but we can not refuse, because we understand how important that cigarette is for a prisoner in captivity. When Volodymyr Balukh was passing us when convoyed, his first request was 'deliver the cigarettes, please'.
The first court hearing in Prykhodko's case is scheduled for May 28, it is important for me to see him before. The lawyers working with the consulate are in Crimea because of the difficult conditions of movement due to the coronavirus. They communicate during the court hearing only by videocall. And, in fact, one or another of our prisoners finds himself alone in the courtroom, when one or two prosecutors, three judges, are sitting in front of him. I want to prepare Oleh psychologically and assure him that there will also be a consul in the hall – me or my colleague, so that he should not feel abandoned. We hope that this case considering procedure is temporary, because the physical presence of lawyers together with prisoners during the trial is extremely important, although lawyers work well and appeal to judges for illegal accusations by the Russian prosecutor's office via video calls, too.
How is COVID-19 pandemic affecting your work with the prisoners?
— Now everyone who enters the pre-trial detention center is carefully checked so that no infection could be brought by someone from outside. When I enter, I am wearing boot covers, gloves and a mask, my temperature is measured. When the mask can fall off during a conversation, the guard immediately warns me about it. The same requirements for investigators or lawyers. The pre-trial detention center is open for these categories, but meetings with relatives are prohibited. The prisoners themselves are without masks, they will not save anyone with 6-8 people in tight cells. But when prisoners are taken to court, they must be fully protected. This is always the case, masks are issued, and gloves may not be enough for everyone, this happened the last time when the "Bakhchisaray group" was present in the court. Judges and prosecutors themselves sit without masks and gloves. I would say that we all walk on very thin ice. Contact between prisoners and prosecutors can cause illness for many people. Today my colleague was at the first court hearing on the so-called "Alushta group" (Eldar Kantemirov, Ruslan Mesutov, Ruslan Nagayev and Lenur Khalilov). People have just arrived at the pre-trial detention center, and the first hearing has been already held. There were lawyers from the so-called "Crimean Garrison Court" by video call. But there was no lawyer by appointment, because he had got coronavirus. We do not know this lawyer personally, because the case has just begun.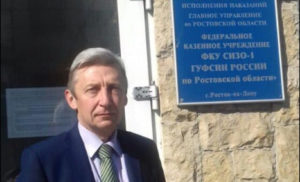 How are the political prisoners, within the period of COVID-19 pandemic restrictions, eating?
— We ask everyone about food. Now parcels cannot be transferred, but it is possible to transfer funds to everyone's account, and a person can buy something in a shop on the territory of the isolator. These are mostly essentials or food. We, as a consulate, collect relevant applications from people and can also transfer a certain amount to everyone's account. For example, I was visiting  Muslim Aliyev in the pre-trial detention center no 2, and he said that he would buy water first, because the water given was not drinkable. The assortment  in these shops is not wide, but can help in the current difficult period with our financial help and help from families. You can send parcels by mail, and this is being done.
I would like to share the impression of Nariman Memedeminov – someone completely unfamiliar to him from Latvia transferred the money and bought the food that was brought to him in the cell. It was iftar, a period when a Muslim could not keep food during daylight, and these foods were brought to Nariman in the evening. He was very pleased, and through me he conveys great gratitude to these people.
Muslim Aliyev also asked me to convey gratitude and congratulations to the people who were supporting them in Latvia.
Earlier, Crimean Tatar families came non-stop with food and necessities. We hope that conditions will soon improve and that family members will be able to visit prisoners again.
Olena Lysenko talked.