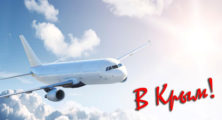 In early May, in Crimea, the risks of the spread of coronavirus infection increased. This is due to the fact that air communication with the regions of Russia, in which the high incidence rate of COVID-2019 remains, has not been stopped.
On May 1, the "head" of Crimea S. Aksyonov said that over the day the number of flights to Crimea increased by one and a half times. Since the beginning of May, 5 to 10 flights land in Simferopol daily.
In early May, most flights to Simferopol Airport arrived from Moscow. For example, on May 4, 6 aircraft arrived in Crimea, 5 of them from Moscow. Information about this was published on the website of the Simferopol airport.
This week, the passenger traffic to Crimea from Russia has not dicreased. On May 10, 10 flights arrived in Simferopol, including 5 from Moscow. May 11 – 7 flights, 5 of them from Moscow.
As of May 12, Moscow (more than 121,000 confirmed cases) and the Moscow region (more than 22,000 confirmed cases) are the epicenters of COVID-19 infection in the Russian Federation. For comparison, as of May 12, only 16,023 cases of the disease were registered in the entire territory controlled by Ukraine.
The increase in passenger traffic with the regions of the Russian Federation, which are the centers of COVID-19 spread, creates serious risks of new infections and growth in the total number of cases on the peninsula. The situation is aggravated by the fact that not all tourists who have arrived in Crimea observe the regime of self-isolation. In the conditions of such air traffic with Moscow, other restrictive measures (restriction of entry into Crimea through the checkpoints or the bridge, restrictions on interregional communication, etc.) will not bring the necessary results for the protection of Crimeans. To further prevent the spread of COVID-19 on the peninsula, the Russian authorities need to limit air traffic to Crimea, but this does not happen.