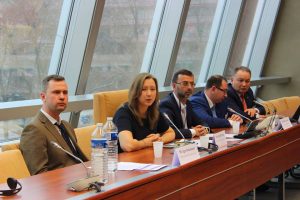 The Russian Federation should immediately release the Ukrainian activist Vladimir Baluch and all political prisoners, and to compensate the damage caused to them. Persons guilty of illegal deprivation of freedom of the activist, and other illegally persecuted citizens of Ukraine in Crimea, should be brought to justice.
This statement was made by the head of the Crimean Human Rights Group Olga Skripnik on 23 January in Strasbourg during the PACE winter session during the event "Tortures, enforced disappearances, political persecution: Crimea asks for justice." The event was co-hosted by the Permanent Delegation of Ukraine in Parliamentary Assembly of the Council of Europe, the Crimean Human Rights Group and Crimean Tatar resource centre.
In her speech, Olga Skrypnyk reported that Crimean citizens pursued in administrative and criminal proceedings for pro-Ukrainian activity; they are intimidated, forced to leave the Crimea and they are prohibited to conduct any peaceful assembly.
Human rights activist on the example of the criminal prosecution of Vladimir Baluch explained how the criminal cases against Ukrainian activists are fabricated in Crimea.
"Vladimir Baluch is a symbol of Ukraine in Crimea. He is well-known Ukrainian activist. After the occupation of Crimea by Russia, Baluch publicly expressed his view that the inclusion of Crimea into the Russian Federation is illegal. In protest in March 2014 he posted the national flag of Ukraine on the roof of his house. De facto authorities began to pursue him.
As a result, on 8 December 2016 Russian Federal Security Service officers carried out the third illegal search in the houses of the activist and his mother. The Court chose the preventive measure to Baluch in the form of detention. The activist was accused of "illegal possession of weapons" and now he faces imprisonment of up to 4 years ", – Olga Skrypnyk reported.
According to the head of the CHRG, the search was carried out with gross procedural violations; the Russian Federal Security Service did not give the court sufficient grounds to conduct the search. The prosecution side did not submit to the court the evidence that would allow making a conclusion about the involvement of Baluch in committing the alleged crime. But the court ignored it all ", – Olga Skrypnyk added.
Now the activist is in pre-detention centre in Simferopol in appalling conditions of detention, he needs medical treatment. Vladimir Baluch is illegally imprisoned solely because of his pro-Ukrainian views.
The event was moderated by George Logvinsky, Ukrainian MP, who was elected today as Vice-President of the Parliamentary Assembly of the Council of Europe. He assured that the Ukrainian delegation to PACE and all European diplomats must do everything possible for the release of Vladimir Baluch and all political prisoners of Kremlin.