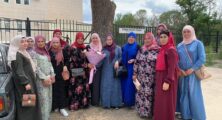 The 'Dzhankoy District Court' dismissed Lutfiye Zudiyeva's claims against the local police unit.
The corresponding award was made by "judge" Elena Basova.
The session was held without the attendance of the audience due to restrictions related to preventing the spread of the new coronavirus infection.
As lawyer Nazim Sheikhmambetov said, during the hearing, the defendant admitted that he hadn't known any information about illegal activities or intentions on the part of Lutfiyae Zudiyeva. Lutfiye Zudieva will appeal against the decision of the 'Dzhankoy District Court' to the 'Supreme Court of Crimea'.
We would remind that Lutfiye Zudiyeva was issued two "warning notices on extremism inadmissibility'.
Both documents were brought to the activist's home on May 1 by the local district "policeman" senior lieutenant Sadovoy. The first warning is dated April 16 and informs that on May 3, 5, 18 and June 26, 2020, unauthorized actions by members of the Mejlis of the Crimean Tatar people, called there an "extremist organization", may be held on the peninsula. The warning notice was signed by Yuri Marintsov, head of the Dzhankoysky Police Unit, RF MIA. On July 14, the "Dzhankoysky District Court" began considering L. Zudiyeva's claim against the local "prosecutor's office.
More than 60 people received similar "warnings" in Crimea. Among them are lawyers, human rights activists, single man protest participants, members of the Mejlis of the Crimean Tatar people, activists of the "Crimean Solidarity". Activists consider these actions of Russian "law enforcement officers" as an element of pressure and intimidation.
The Crimean Human Rights Group points out that such a discriminatory attitude towards representatives of the Crimean Tatar people and activists limits freedom of expression, namely, the opportunity to show their ethnicity and pay respect to the memory of victims of repression and deportation of the Crimean Tatar people.