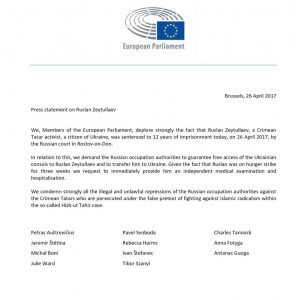 The deputies of the European Parliament issued a statement in support of Crimean political prisoners, which were involved in the Hizb ut-Tahrir case. The text of the statement was published on the page in the social network by MEP Petras Ašštrevičius.
"We, the members of the European Parliament, condemn the fact that on 26 April, 2017, Ruslan Zeytullaev, a Crimean Tatar activist, a citizen of Ukraine, was sentenced by a Russian court in Rostov-on-Don to 12 years imprisonment.
We demand that the Russian occupation authorities guarantee the free access of Ukrainian consuls to Ruslan Zeytullaev and transport him to Ukraine. Taking into account that Ruslan has already been on a hunger strike for the third week, we demand urgently to provide an independent medical examination and hospitalization.
We strongly condemn all illegal repressions of the Russian occupation authorities against the Crimean Tatars who are being persecuted under the false pretext of fighting Islamic radicalism in the framework of the so-called Hizb-ut Tahrir case," – the statement said.
The statement was published after a meeting of deputies with Crimean human rights activists, in which the head of the Crimean Human Rights Group, Olga Skrypnik, participated. Human rights defenders passed the text of the appeal of Ukrainian public organizations in connection with the hunger strike of Kremlin prisoner Ruslan Zeytullayev to the deputies and it was unveiled on 19 April, 2017.