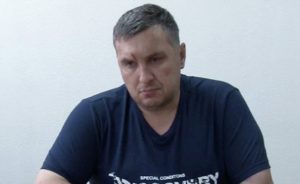 On 31 January 2017 "Supreme Court" of Crimea upheld the complaint of lawyer Olga Dinze regarding the decision of "the Kiev district court" of Simferopol on the violation of the right to defence against Ukrainian citizen Evgeniy Panov, who is one of the defendants in politically motivated case on "Ukrainian saboteurs".
"The Supreme Court" did not agree with the reasoning of the court of first instance and returned the lawyer's complaint and materials for a new trial in the court of first instance. For Panov defenders this decision was the first decision in which the Court took into account the arguments of the lawyers.
Recall that on 5 December, 2016 the lawyer of Evgeny Panov was denied in accepting the appeal regarding the preventing admission to his client in the Lefortovo pre-detention centre.
The complaint was examined in "the Kiev District Court" in Simferopol by the former judge of Ukraine Mikhail Belousov, in respect of which the General Prosecutor's Office of Ukraine is investigating a criminal case under Part 1, Article 111 of the Criminal Code of Ukraine (high treason).
Ukrainian lawyers demanded to recognize the actions of the investigator of the Federal Security Service Directorate of Crimea and Sevastopol Konstantin Selivanov as illegal and unfounded. On 1 November, 2016 the investigator did not allow the lawyers Olga Dinze and Dmitry Dinze to Evgeniy Panov during the investigation actions in Moscow.
Olga and Dmitry Dinze become lawyers of Ukrainian citizen Evgeniy Panov after he was transported from prison in Simferopol to Moscow. The lawyers tried to visit the Ukrainian, but they were not allowed to do that, and they have filed a complaint against the actions of the investigator. Panov reported to the lawyers about the fact that he was tortured after being detained in Crimea and the appropriate motion was sent to the Investigation Committee.