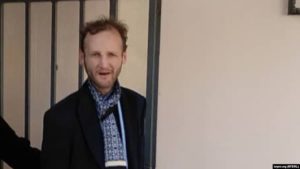 'The Yalta Town Court' on December 20 decreed to deport forcibly blogger Yevgeniy Gaivoronsky from Crimea to the mainland Ukraine.
According to lawyer Aleksey Ladin, today Gaivoronsky will be transported to the Temporary Detention Center for Foreigners, located in the village of Novoukrainskoye, Krasnodar Area, where the blogger will be waiting for the appeal of the court ruling.
The "court" ruling on the expulsion states that Gayvoronsky has received a "Russian passport" with violations, and taking this into account his "Russian citizenship" has been canceled.
An administrative report was drawn up for the blogger under article 18.8 of the Code of Administrative Offenses of the Russian Federation "Violation of the rules of entering the Russian Federation or the regime of staying in the Russian Federation by a foreign citizen or stateless person".
"Ye. B. Gaivoronsky, being a Ukrainian national, committed a breach of the regime of staying (residence) in the Russian Federation, consisting in the absence of documents confirming the right to stay in the Russian Federation," the ruling says.
The "court" also imposed a fine of RUR 2,000 on Gaivoronsky. The decree was issued by "judge" Boris Gorbov.
On November 25, 2019 the same judge Gorbov fined Gaivoronsky for 30,000 rubles under Article 20.1-3 (obvious disrespect for state authorities in the Russian Federation) on a charge of using abusive language regarding RF President V. Putin.
The blogger himself did not admit his guilt and referred to the norms of international law, according to which Crimea is considered the occupied territory of Ukraine.
Alexander Sedov, the Crimean Human Rights Group expert, explained that such actions of the Russian Federation violated several international human rights standards at once.
"In particular, ban on staying in Crimea, where Gayvoronsky actually lives, violates his right to movement. Since the actual reason for persecuting Gayvoronsky is his blogger's activity, this is also a restriction on freedom of expression. In addition, the forced deportation of a Ukrainian national from the occupied territory is a violation of Art. 49 of the Geneva Convention IV relative to the protection of civilian persons in time of war," Mr. Sedov said.