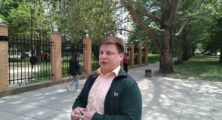 In the "Supreme Court" of Crimea on May 19, 2020, a hearing was held to consider the appeal of Mr.Artiom Gerasimov, a supporter of the Jehovah's Witnesses religious organization, and a resident of Yalta.
The panel of 'judges', chaired by Aleksey Posledov, at the request of the defendant, postponed consideration of the appeal until June 4 due to absence of the lawyer caused by his state of health.
The audience were not allowed into the courthouse, referring to the threat of a new coronavirus infection.
According to Artiom Gerasimov, together with the decision to postpone the date of the session, the "court" decided to ensure the appearance of the defense lawyer for the appointment at the next session.
We would remind that, on March 20, 2019, in Yalta, the local department of the UFSB for Crimea opened a criminal case against Mr. Artiom Gerasimov under Article 282.2-1 as suspected of continuing the activities of the "Jehovah's Witnesses religious organization" banned in the Russian Federation.
Mr.Gerasimov was detained and taken to Simferopol for investigation, then he was to pledge in writing not to leave the town. That day six more addressed were searched in Yalta.
On March 5 Vladimir Romanenko, a judge of 'the Yalta Town Court', found him guilty and sentenced a penalty amounting to RUR400,000.
It is noteworthy that in parallel to the verdict to Artiom Gerasimov announcement, the "Dzhankoy District Court" announced the verdict in a similar criminal case against Mr.Sergei Filatov, who was charged under the same article (282.2 of the Criminal Code of the Russian Federation) for continuing the activities of the closed local "Jehovah's Witnesses" religious association. As in the case of Artiom Gerasimov, the trial of Sergei Filatov, starting from one of the sessions, at the request of the prosecutor's office, was announced in camera, in order to ensure the safety of witnesses. The court sentenced Filatov to six years in the general security regime penal colony.
In addition, in August 2019, the FSB men detained and subsequently indicted Mr. Viktor Stashevsky, another supporter of the Jehovah's Witnesses religious organization from Sevastopol, under Article 282.2-1. At the moment, it is known that the preliminary investigation in his criminal case is over, and after Mr.Stashevsky studies the case materials, he will be referred to the "court".
The Crimean Human Rights Group experts claim that the deprivation of liberty of Jehovah's Witnesses in Crimea is a complex of violations of human rights and international humanitarian law and, accordingly, falls under the jurisdiction of the European Court of Human Rights and the International Criminal Court.