23.02.2017
A mobile reception point for contract service is deployed in Sevastopol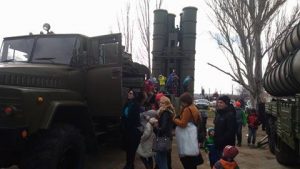 Another time in violation of the Geneva Convention on the Protection of Civilian Persons in Time of War, Russia is conducting an army call in Crimea.
On 23 February in Sevastopol in the central square a mobile point of recruitment for service under a contract in the Russian army was opened. Three officers in the tent were agitating passers-by to join the ranks of the Russian army. The salary offered to the contract workers is 17,000 rubles for the youngest under the rank and service of the conscript (about 6.5 thousand hryvnia), then, depending on the skills, position and title, the contractor can claim up to 30,000 rubles (about 12,000 hryvnia).
For such money, Sevastopol citizens are promised a full-time service with a non-standard working day and on duties in units, as well as an enhanced regime for training, terrorist or combat threats. Interested citizens are warned that most vacancies for Crimeans are outside the peninsula, including Russia's hot spots – Chechnya and Dagestan. The possibility of sending contractors to the military base of Russia in Syria is not excluded.
Agitators in shoulder straps told that local women are also often interested in the service, but there are no vacancies in the Russian army for them now.
On this day, local residents were agitated with the help of another exhibition of military equipment. This time the cars were located just opposite the playground on the territory of the former Ukrainian cultural and information centre in Sevastopol. Organizers actively invited parents and allowed children to get behind the wheel of KAMAZ trucks and climb up the cannon.
We remind you that Article 51 of the Geneva Convention on the Protection of Civilian Persons in Time of War explicitly prohibits the military conscription by an occupying country in the occupied territory, as well as any propaganda for such a call.
Photos of the exhibition and the mobile point of appeal were made today in Sevastopol.