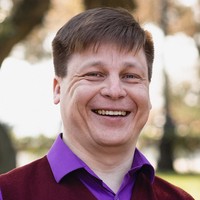 'The Yalta Town Court' sentenced Mr Artiom Gerasimov, a Yalta Town resident, to a penalty of RUR400,000 (about UAH150,000) for establishing the 'Jehovah's Witnesses' religious association in the town. The verdict was rendered by "judge" Vladimir Romanenko.
The prosecution demanded 6.5 years in prison for him. Mr. Gerasimov himself considers the verdict unfair. In his last word at the previous meeting, he said: "… So it turns out that law enforcement officers are essentially fighting with my natural need to be a believer. And I just want to have the right to myself, the right to think, as I think, to have my own opinion on a particular issue, come to my conclusions and form my creeds … "
The verdict was announced publicly. Several dozens of people came to support Mr.Gerasimov.
Let's recall that Artiom Gerasimov was accused of managing the activities of a banned organization (RF CC Article 282.2-1). The criminal case was started on March 15, 2019, followed with a number of searched within the case in Yalta, Gurzuf and Alupka.
Today in Dzhankoy, the "court" sentenced another defendant of the Jehovah's Witnesses case, Mr.Sergey Filatov, to 6 years in the general security penal colony. The third criminal case is being investigated in Sevastopol, with accused Mr.Viktor Stashevsky being under travel restriction order.
The Crimean Human Rights Group experts stated that depriving the 'Jehovah's Witnesses' of liberty in Crimea constitutes a package of violations of the human rights and the international humanitarian law, and, consequently, would fall under the jurisdiction of the European Court of Human Rights and the International Criminal Court.