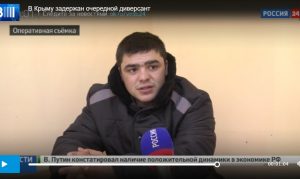 The Crimean Human Rights Group (CHRG) learned that today, on 9 March, 2017, the "Armenian City Court" heard the case of Seit-Ibrahim Zaytullayev, who was accused by the Russian special services of trying to "cross the border with Crimea from the Kherson region, bypassing the checkpoint".
Judge Tatiana Fedeneeva found the Crimean resident guilty according to part 1 of Article 322 of the Criminal Code of the Russian Federation (Illegal crossing of the State Border of the Russian Federation) and fined him for 5 thousand rubles.
Zaytullayev was released from custody in the courtroom, since the judge did not extend the previously chosen for him preventive punishment.
Recall that Russian border guards detained a Crimean resident, nineteen-year-old Seit-Ibraim Zaitullayev on the night of 9 to 10 February. A criminal case under the article on illegal crossing of the border was filed on the guy. According to the FSS, Zaytullayev is a member of the Crimean Tatar Volunteer Battalion named after Noman Chelebidzhikhan.
On 11 February, 2017, a judge of the Kyiv District Court of Simferopol, Tatyana Rube, elected a preventive measure for Zaytullaev in the form of detention for a period of 1 month, until 9 March. After which he was placed in pre-trial detention centre No. 1 of Simferopol.
When choosing a preventive measure, the "judge" violated the norms of the Code of Criminal Procedure of the Russian Federation and elected a measure in the form of detention, without any legal grounds. Judge Rube referred to the existence of certain operational data about the alleged involvement of the Crimean resident in illegal activities, but she did not indicate any specific facts. During the trial, the judge also violated the right to defence, since it prohibited the lawyer from communicating with his client.