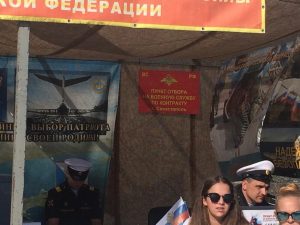 On 12 June in Sevastopol and Simferopol there were large-scale actions "Military service contract – Your choice! » Similar actions of the Russian Federation in the territory of Ukraine that was occupied by Russian Federation grossly violate international humanitarian law and are prohibited by international conventions.
The information regarding the events is posted on the official website of the Ministry of Defence of the Russian Federation.
The ministry reported that – "During the events, exhibition of military equipment which is used by the Southern Military District was organized; it included armoured cars Typhoon-K, Tiger, KamAZ with an armoured cabin, as well as small arms, demonstration of military uniforms and equipment for the servicemen".
According to eyewitnesses, the point for registration of citizens for military service was organized at the entrance to the Cultural and Information Centre on the Pavel Korchagin Street in Sevastopol (formerly Ukrainian Cultural and Information Centre).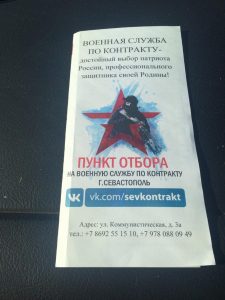 To attract attention to the event, the distribution of the leaflets was carried out; performances of children's groups and an exhibition of military equipment were organized. For example anti-aircraft missile and gun system (ZRPK) "Pantsir-S" was installed on the square in front of the centre's building.
Similar actions were held repeatedly in Crimea. For example, the mobile reception point for the contract service in Sevastopol was organized on 23 February, 2017.
We remind you that Article 51 of the Geneva Convention on the Protection of Civilian Persons in Time of War explicitly prohibits the military conscription by the occupying power in the occupied territory, as well as any promotion of conscription.
Photos of the mobile point for the military conscription are made today in Sevastopol.