25.07.2017
"Supreme Court" of Crimea left Ukrainian Vladimir Dudka in pre-trial detention facility till 8 September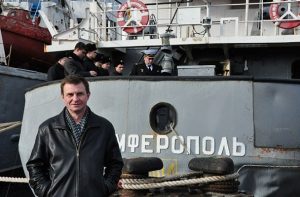 In the Kremlin-controlled "Supreme Court" of Crimea on July 19, 21 and 24, 2017 an appeal of the defence regarding one of the figurants of the "case of Ukrainian saboteurs" Vladimir Dudka was considered.
Judge Anatoly Osochenko upheld the decision of the "Kyiv District Court" on July 4, 2017 to extend the measure of restraint in the form of detention until September 8.
According to relatives, Vladimir Dudka was not brought to court. He participated in the meeting via video communication. Also relatives reported that the Crimean did not receive a copy of the appeal of the defence.
Earlier, the Crimean human rights group reported "trial judge" of the "Kiev district court" of Simferopol Alexei Tikhopoy extended arrest for two months, until September 8 for Vladimir Dudka and other Sevastopol residents: Dmitry Shtyblikov and Alexei Bessarabov, who are accused of preparing "sabotage" in the territory of Crimea. Detained in November last year, citizens of Ukraine for 9 months are being behind the bars.
Recall that Vladimir Dudka, Dmitry Shtyblikov and Alexei Bessarabov were detained on November 9, 2016 in Sevastopol. According to the FSS, they are participants in the sabotage-terrorist group of the Defence Intelligence of the Ministry of Defence of Ukraine. According to the website of the "Supreme Court" of Crimea, Vladimir Dudka is charged according to the article 30 part 1 – article 281 Part 2 of the Criminal Code of the Russian Federation. (Preparation of diversions by an organized group).
The Crimean human rights group stated that the citizens of Ukraine detained in Crimea during the period from August to November 2016 in the case of the so-called "Ukrainian saboteurs" (Evgeny Panov, Andrei Zakhtey, Redvan Suleimanov, Vladimir Prisich, Dmitry Shtyblikov, Alexei Bessarabov, Vladimir Dudka, Gleb Shabliy, Alexey Stogniy), are imprisoned for political reasons with violation of fundamental rights and freedoms and are political prisoners.