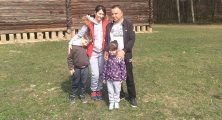 A Ukrainian citizen of Afghan origin, Kabir Mohammad, was released today from the Simferopol pre-detention centre after 11 months of illegal detention on September 12. This was informed to Crimean human rights group by the wife of Kabir Oksana Mohhamad.
Ukrainian citizen reported that according to the medical examination conducted by Kabir in the Simferopol city hospital, he cannot be kept in custody for health reasons.
The family of Mohammad: his wife and two minor children live in the Kyiv region, but Kabir will not be able to leave Crimea to the mainland Ukraine, since the occupation authorities of Crimea took a written undertaking not to leave the place from him. Mohammad is forced to stay in Crimea with friends for the time being.
Earlier CHRG reported that Kabir Mohammad had already had a stroke twice. The state of health of the Afghan in the pre-detention centre deteriorated sharply. The defence of Mohammad managed to achieve his medical examination only after the appeal to the court.
Recall that Kabir Mohammad was detained by the FSS of the Russian Federation at the entrance to Crimea and was kept behind the bars for 11 months in violation of procedural norms. The Russian authorities want to extradite a citizen of Ukraine of Afghan origin to Iran, allegedly long-wanted by Interpol, a particularly dangerous criminal – an Afghan citizen named Niyazi, whose name is Mohammad Kabir. The Consulate of the Islamic Republic of Afghanistan in its official letters to various instances of the Russian Federation several times reported that Kabir Mohammad who was detained in Crimea has nothing to do with the citizen of Afghanistan wanted by Interpol.