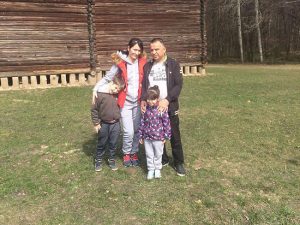 On June 9, 2017 "The Armyansk City Court" again extended the preventive measure in the form of detention for three months until 13 September to the Ukrainian citizen of Afghan origin Kabir Mohammad.
According to Oksana who is the wife of Kabir Mohammad, after the trial Kabir was taken to the temporary detention facility of Armyansk. The next day, on June 10, Oksana was informed that her husband had a stroke and she was asked to bring medication to the temporary detention facility. She is extremely concerned about her husband's health condition and is worried about his life, since Kabir had already had a stroke before, and his health after a long stay in the temporary detention facility has deteriorated sharply.
The Crimean human rights group reported earlier that Mohammad did not have a medical examination, although the defence officially requested the head of the medical unit of the Simferopol temporary detention facility several months ago.
Recall that Kabir Mohammad was detained the FSS of the Russian Federation during the entrance to Crimea and for 9 months, in violation of procedural norms, was kept in jail. The Russian authorities want to extradite a citizen of Ukraine of Afghan origin to Iran, as allegedly long-wanted by Interpol, a particularly dangerous criminal – an Afghan citizen named Niyazi, whose name is Mohammad Kabir. The Consulate of the Islamic Republic of Afghanistan in its official letters to various instances of the Russian Federation several times reported that the detained in Crimea Kabir Mohammad has nothing to do with the citizen of Afghanistan wanted by Interpol. The Ukrainian citizen has a surname – Mohammad, and the name Kabir, his father Mohammad Kabir. And, according to the documents, the surname of the wanted person is Niyazi, and the double name is Mohammad Kabir.