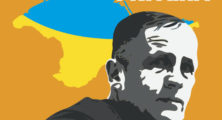 Mr Volodymyr Balukh, a Ukrainian political prisoner, was placed in the punishment cell of the 4th Penal Colony (Torzhok Town, RF) on April 4th, and he will stay there till April 19th. This has been told to Balukh's sister Nadezhda today, on April 9th, in the colony administration.
The package with food and clothes she brought was rejected again because, as it was argued, when a prisoner stayed in the punishment cell he is not allowed to receive packages and meet visitors. When in the punishment cell, the prisoners are kept in strict conditions, having only bread and water.
We would remind that on April 8th Nadezhda, Volodymyr Balukh's sister, could not transfer food and clothes to her brother in the 4th Torzhok Colony either.
That rejection was argued by the colony administration stating that 'Monday is not a reception day'. However, the colony did not confirm on April 8th that Mr Balukh was in the punishment cell.
Mr Volodymyr Balukh, a Ukrainian political prisoner, has been in the Penal Colony No 4 of Torzhok Town, Tver Region (FKU IK-4 UFSIN Russia for Tver Region)[1] since March 29th 2019. He did not agree on transferring to the RF. The Crimean Human Right Group stated that convoying Mr Balukh to the RF violated Article 49 of the 4th Geneva Convention Relative to the Protection of Civilian Persons in Time of War that forbids transferring the residents of the occupied territories to the territory of Occupying Power.
[1] Federal State Institution, General Regime Penal Colony, Federal Penal Service Department