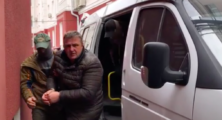 Vladyslav Yesypenko was not present in the hearing of "Supreme Court" of Crimea on appeal against his remand in custody.
Today on 23 March 2021, a hearing was held in the "Supreme Court" of Crimea on complaint by the defense of Vladyslav Yesypenko regarding the arrest of the Ukrainian. However, they did not take Vladyslav Yesypenko himself to the hearing, saying that he was under investigation. As a result of the hearing, the lawyers having been hired by the relatives to defend the Ukrainian were allowed into the case.
Consideration of the complaint about remand in custody was postponed, since the "judge" Timur Slizko decided to send the case to the FSB in order to notify the investigative officer about such a complaint. After notifying the investigative officer, a re-hearing must take place.
Most significantly, Violetta Sineglazova, the appointed attorney for Vladyslav Yesypenko, did not appeal against Vladislav's detention and was not present at the hearing today. Such conduct adds further credence that Violetta Sineglazova actually represents the interests of the FSB but not the defendant.
On 10 March, a resident of Alushta town Yelizaveta Pavlenko and a native of Krivoy Rog city Vladyslav Yesypenko were detained at the Angarsk pass. The house of Yelizaveta Pavlenko was searched for more than eight hours. As a result, equipment and personal belongings were seized. Vladyslav Yesypenko was taken to an undisclosed location. On 12 March, the Kievskiy District Court of Simferopol took V. Yesypenko into custody for a period of 2 months, until 11 May. The judgement was delivered by the "judge" Viktor Krapko. The hearing was held without the participation of an independent lawyer, in the presence of the appointed attorney V. Sineglazova. The independent lawyers Emil Kurbedinov and Aleksei Ladin retained by Yesypenko's wife Yeketeryna were not allowed to see Yesypenko.
According to experts from the Crimean Human Rights Group, this is proof of the illegal investigative technique and the possibility of torture.