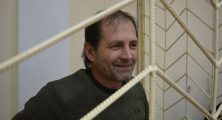 The Razdolnoye District Court of Crimea made that decision on December 1, 2017, "Judge" decided to release the Ukrainian home right from the courtroom.
It was the prosecutor's petition to change Balukh's measure of restraint from detention to home arrest. The lawyer asked for a preventive measure in the form of a signed undertaking not to leave place of residence.
Vladimir Balukh will remain under house arrest for the next two months. He has been detained for a year, from the moment of his arrest on December 8, 2016.
We recall that the "Supreme Court of the Crimea" decided to re-examine Balukh's case on October 2, 2017 and simultaneously extended the measure of restraint until December 4, 2017.
The "Razdolnoye District Court" even recognized the violation of the de facto Russian law in Crimea to keep Balukh in custody until January 16, 2018. This decision was made on October 24th and was canceled on November 29th by the "Supreme Court" of Crimea.
The defense of Balukh сlaim that the court has no grounds even under Russian law to keep Balukh in custody. According to the Russian law, the maximum allowable period of detention for Balukh in this criminal case expired on October 25, 2017.
Flagrant violations of fundamental human rights and procedural norms of de facto Russian legislation in Crimea, as well as unreasonable decisions to extend the term of detention indicates that a criminal case against Ukrainian activist Vladimir Balukh is fabricated for political reasons