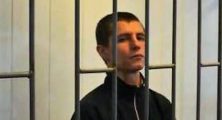 Ukrainian political prisoner, convicted in Crimea for attempting the life of the Crimean officers of the Berkut on Maidan in Kyiv, began working at one of the enterprises located in the colony in the Krasnodar colony. The company, on which the Ukrainian works, makes sacks for sugar.
For the first month Kolomiets received 20 packs of cigarettes in the form of wages.
Galina Kolomiets (Zalikhanova) after a short-term meeting with her husband told the Crimean human rights group that Andrei had lost a lot of weight. Now with a height of 175 cm the Ukrainian citizen weighs only 60 kg.; For a few months, Andrew lost 6 kg in weight.
Kolomiets works almost without days off, from 7 am to 9 pm and gets tired physically. But, according to Galina, despite this, after he started working, it became morally easier for Andrei to accept his imprisonment. In the cell, in which Andrei is kept, live about 60 people. Among them there are those who are hostile to the Ukrainian for political reasons. Kolomiets should avoid conflict situations; ignore the insults connected with his nationality and citizenship.
Ukrainians still suffer from chronic diseases: psoriasis and high blood pressure. Galina Kolomiets reported that Andrei complained of severe headaches and stomach problems related to poor nutrition in the colony.
According to the spouse of the Ukrainian, a few months ago Kolomiets was visited by the Ukrainian consul from Rostov-on-Don Vitaly Moskalenko.
The family of Andrei Kolomiets does not have the financial ability to help the Ukrainian financially. In the Krasnodar colony, as in many other Russian places of imprisonment, the food given to prisoners is practically inedible, because of poor nutrition our political prisoners lose weight and are ill. Therefore, we urge to support Ukrainians who are imprisoned in the Russian colony financially and morally.
A letter with words of support or a postcard to Andrei Kolomiets can be written in the colony at the address: 350039 Russia, Krasnodar Region, Krasnodar, Kalinina Street 58, Federal State Institution Correctional Facility-14 Federal Penitentiary Service of Russia in the Krasnodar Region. To Kolomiets Andrey Vladimirovich, DOB 08.05.1993