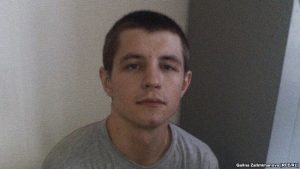 A Ukrainian political prisoner, Maidan participant Andrei Kolomiets, was placed in in the disciplinary cell for sentenced prisoners (ShIZO) at the penal colony of the Krasnodar Territory of the Russian Federation for the fourth time. He was in the Russian colony since November 2016.
According to the wife of Ukrainian Galina Kolomiets, Andrei will stay there for 15 days, until May 19, 2018.
As previously reported by Crimean human rights group, it is not the first time Andrei Kolomiets was put in a ShIZO.
Despite his young age, Andrei Kolomiets suffers from several chronic diseases. He is suffering from psoriasis, headaches, high blood pressure.