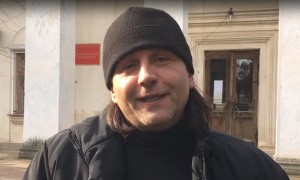 According to the Crimean Human Rights Group (CHRG) yesterday, on 23 January the lawyer of Vladimir Balukh was able to meet at the hearing with his client. The lawyer said that Vladimir Balukh's face has traces of physical impact. It says that the Ukrainian activist is under pressure in pre-detention centre №1 of Simferopol. In this regard, Mr. Balukh and his lawyer insist on a meeting with the Ukrainian Ombudsman Valeria Lutkovska.
At the yesterday's meeting "Supreme Court" of Crimea considered the lawyer's complaint about the unlawfulness of the search of the house of Balukh in April 2015. During this search, the flag was removed from the roof of Ukrainian activist. The official reason for the search was a statement of the unknown person that Baluch allegedly have stolen the parts from the tractor. The appeal of the lawyer was not satisfied by the "court".
Earlier, the Crimean Human Rights Group reported that Vladimir Balukh is in urgent need of medical care, as in pre-detention centre chronic diseases aggravated, and on 28 December last year they have to call an ambulance.
Vladimir Balukh is imprisoned since 8 December, 2016. CHRG experts say that the Crimean "court" doesn't have any grounds for holding activist Baluch in pre-detention centre and the prosecution of Ukrainian activist is politically motivated. According to experts of the CHRG, Vladimir Balukh is deprived of his liberty unlawfully and solely because of his pro-Ukrainian views.