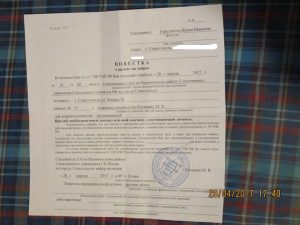 Sevastopol activist Irina Gorelikova today, on 28 April was released from the Investigation Department of the Investigative Department of the Investigative Committee of the Russian Federation of Sevastopol; she was informed that they want to close the criminal case against her.
Yesterday, a police officer threatened a woman with a reconduction, if she did not come to the Nakhimovsky district police department herself.
According to Gorelikova, she came to the police station in the morning, and the police officer sent her to the investigator of the Investigation Committee.
In the Investigation Committee she was told that a criminal case under article 319 of the Criminal Code of the Russian Federation (Insulting a representative of the government) was opened in relation to her in 2015 after her publications in the social network Odnoklassniki in 2015 that were criticizing Russian President Putin. Irina Gorelikova expressed her patriotic attitude towards Ukraine in her publications. The investigator informed her that she had been put on the wanted list. Irina claims that she did not receive any summons and was not hiding from the police.
In the presence of an appointed lawyer, Gorelikova wrote a petition to close the criminal case upon the expiration of the limitation period on the recommendation of the investigator. Also Gorelikova signed a document that she appeared to the Investigation Committee on the first demand.
According to Gorelikova, the investigator promised her that the case against her will be closed in a month.
Irina asked the investigator for a summon notice to present it at the place of work.
The Crimean human rights group reported earlier that Irina Gorelikova had been threatened with use of physical force against her on 28 April by a policeman, as he was given a warrant – to bring her to the police forcible. At the same time, he did not give any official documents to Gorelikova.