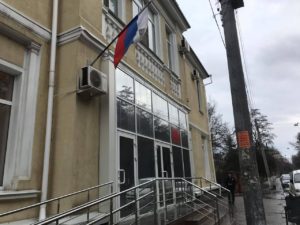 On February 5, 2020, Denis Didenko, a judge of the 'Kievsky District Court', extended a pre-trial restriction for Ukrainian activist Oleh Prykhod'ko, a resident of the Saki district of Crimea, for 2 months more, until April 10.
During the session, the investigator of the Prykhod'ko's case denied that the investigation was being delayed and insisted that the arrest be prolonged on the grounds that the Crimean was "suspected of committing a particularly serious crime, is a citizen of a foreign state, and may put pressure on the participants in the investigation".
Lawyer Nazim Sheikhmambetov petitioned to change the pre-trial restriction to house arrest, and also completed the case file with letters of reference made by Prykhod'ko's next-doors. Mr Prykhod'ko assured the court that he considered himself non-guilty and intended to defend his rights in the European Court. He managed to inform his relatives that he felt good. Earlier, according to relatives, he had complained of pain in his stomach and asked to transfer medicines to him in the detention center.
We would remind that Mr. Oleh Prykhod'ko was detained on October 9 2019 by the FSB men. In the afternoon they came to his home in the village of Orekhovo, Saksky District, and stated that they would 'inspect' the garages. Mr. Prykhod'ko went with them to the garage without a coat and a mobile, and did not come back any more.
On October 10 2019, Anton Tsykurenko, a judge of the 'Kievsky District Court', upheld a motion of the 'investigator' and remanded in custody till December 10, 2019. The FSB accused him of preparing an act of terror and producing explosive substances (RF CC Articles 223.1 and 205).
On December 6 2019 'Kievsky District Court' of Simferopol extended the detention period for the Crimean for 2 months, till 10 February 2020.