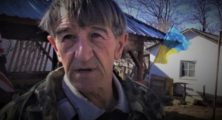 Mr. Oleh Prykhod'ko, a Saki district resident accused of preparing an act of terror, was unlawfully moved from the Simferopol pre-trial detention center to Russia. The Crimean Human Rights Group has been informed thereof by the activist' relatives.
According to Prykhod'ko's relatives, he is now in Krasnodar. The next days he will be delivered toRostov-na-Donu, where the Southern Military Area Court will be considering the falsified criminal case of Oleh Prykhod'ko on the merits.
The Ukrainian is charged with RF CC Article 30-1, Article 205-1 ('Preparation to conduct an act of terror'), Article 222.1-1 ('Procurement and storage of explosive substances'), Article 223.1-1 ('Production of explosive substance').
The first court session is to be held on April 9, 2020, at 10.00am.
We would remind that Mr. Oleh Prykhod'ko was detained on October 9 2019 by the FSB men. On October 10 2019, Anton Tsykurenko, a judge of the 'Kievsky District Court', placed the Ukrainian in detention.
Mr. Prykhod'ko rejects completely his guilt. He acclaimed that an explosive said to be found in his house during the search had been planted by the FSB men. The activist explains his case by his pro-Ukrainian position.