01.09.2017
Ukrainian activist Leonid Kuzmin left Crimea because of threats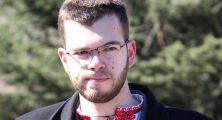 лгOn August 30, 2017 the Head of the Ukrainian Cultural Centre in Crimea Leonid Kuzmin was forced to urgently leave Crimea to the mainland Ukraine.
During the preparation of the first issue of the newspaper "Krimsky Teren" Kuzmin began to receive threats by phone in the form of calls and SMS messages. The same threats were sent to the activist's relatives. Kuzmin was written that he must leave Crimea, or he will be "inprisoned like Balukh"; he was also threatened that he would not reach his home.
Leonid told the Crimean human rights group that after the publication of the newspaper the FSS officers "talked" with his close relatives and told them that Kuzmin was engaged in dangerous activities and he could be suspected of having links with "Ukrainian saboteurs". After that, the activist decided to leave Crimea.
On the afternoon of August 30, the Crimean citizen left home and went to mainland Ukraine via the Russian checkpoint "Armyansk". During the verification of documents, the officers of the Russian border service detained Kuzmin. According to the Crimean citizen, he was taken to a separate room and there he was questioned for a long time about the purpose of the trip and his connections in Ukraine, and also asked whether the activist realized that he was engaged in dangerous activities in Crimea. The FSS officers conducted a thorough examination of Kuzmin's belongings and only after that they let him go.
The activist left the Russian border checkpoint and later discovered that all of his money were missing from the bag that the Russian special services were inspecting. Currently, Leonid Kuzmin is in the mainland Ukraine.ку