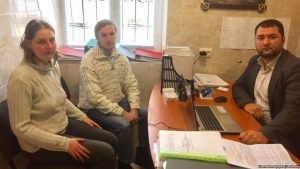 Ukrainian activist Natalya Kharchenko had to leave Crimea yesterday, on 20 June, 2017, because of the persecution of the FSS.
As Natalia informed the Crimean Human Rights Group, today, in relation to her in Simferopol, where the woman lived with her young children and parents, the FSS officers plan to open a criminal case.
She came to Kiev with almost no belongings, leaving her children temporarily to her parents.
The Crimean human rights group reported earlier that on 12 January, 2017, employees of the Russian Federal Security Service (FSS) conducted an illegal search under the guise of an open house survey in the house of a family of Ukrainian activists Vinogradov-Kharchenko and seized several computers. After that, with respect to the Crimean woman, a pre-investigation check was started in accordance with Part 2 of Article 280.1 of the Criminal Code of the Russian Federation "Public appeals for the implementation of actions aimed at violating the territorial integrity of the Russian Federation". According to Crimean lawyer Edem Semedlyaev, the FSS investigator has already collected two volumes of information for this "case."
Each month Natalia was called for "questioning" to the FSS, after which the woman had attacks of chronic diseases of the nervous system.
After the search and interrogation, Andrei Vinogradov lost his job in Crimea. He was forced to come to Kiev to find job and pick up the family few weeks ago. At this time, the family is looking for affordable housing and needs help.