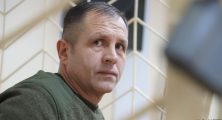 Mr Volodymyr Balukh has not been released from the punishment cell of the 4th Penal Colony in Torzhok Town, Tver Region, Russia, yet. This has become known after his sister – Nadezhda – contacted the colony staff on April 24th 2019.
There the woman was informed that the package sent by her by post on April 16th had not been handed to Mr Balukh yet because he was in the punishment cell. When the Ukrainian's sister asked when he would be released, she was told that such information was not given by phone, but prisoners were usually placed in the punishment cell for the second time for 10 – 14 days.
Nadezhda explained that on April 16th 2019 when the colony staff had rejected to take her package with food, she decided to send a parcel by post.
'I took a taxi and went to the nearest post office. 20kg turned out to be too much for one box, so I managed to send only 13.5kg. In a few days I sent one more small parcel to the colony, with an olive oil, soap, shampoo, and other personal care things. But on April 24th this second parcel returned. The colony rejected it', Nadezhda told the Crimean Human Right Group. In the colony Nadezhda was told that the second parcel for Balukh could be accepted only in 2 months.
The Ukrainian's sister hopes that he will be soon released from the punishment cell and she would manage to visit him. Nadezhda has expressed her gratitude to all caring people who write letters to Mr Balukh and asks not to forget about him.
The Crimean Human Rights Group has informed earlier that in February 2019 Mr Volodymyr Balukh, without his consent, and wit breach of Article 49 of the 4th Geneva Convention Relative to the Protection of Civilian Persons in Time of War was convoyed from Crimea to Tver Region of the RF, to Torzhok penal colony No 4. Now he is unlawfully kept in the RF colony where he is treated in a most prejudged and intolerant way because of his Ukrainian position and fight against the Russian repressive system. Staying of the Ukrainian activist in the Russian colony puts his life and health at serious risk.
A detailed instruction how to write a letter to Mr Volodymyr Balukh through FSIN system