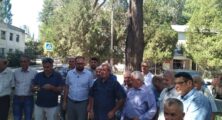 A scheduled session on the criminal case against Mr Mustafa Dzhemilev was held at the "Armiansk Town Court", with three witnesses being questioned on the episodes of negligent storage of weapons and ammunition.
Witness Aliye Selimova said that she was a relative of the Dzhemilev family and often visited their house. She testified that she had never seen weapons and ammunition in the house. One of the doors, where in her opinion the safe could have been, was always closed and only Dzhemilev had the key.
Witness Eldar Ebubekirov said that he is the son of Mustafa Dzhemilev and had seen the weapon a couple of times when it had been taken out for re-registration. He also said that Mustafa Dzhemilev had kept the arms in the safe, the safe was in the office. The office was always closed by Dzhemilev himself and no one else could get there. The witness never saw ammunition, cartridge cases, cartridge boxes in the house. How Hayser Dzhemilev had got the weapon, the witness knew as Hayser had said. He told the witness that he had got into the father's office through the window, found the keys for the room where the safe was, and taken out the weapon. Witness Diliaver said that being a policeman he had periodically checked compliance with the requirements for storing weapons and ammunition. He had checked twice or thrice the storage conditions at Mustafa Dzhemilev's. He had never revealed any violations of legal provisions on storing the weapons and ammunition.
All arms were kept in the locked safe in a separate room, half-assembled, and the cartridges were kept separately.
The session on the case will continue tomorrow, on September 25.