17.03.2017
The wife of Vladimir Balukh reported that there are unknown people in the house in her absence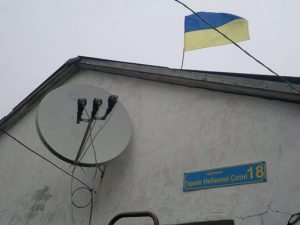 The wife of Ukrainian political prisoner Vladimir Balukh Natalia told the Crimean human rights group that during her absence things change their location in the house. Balukh added that yesterday, on 16 March, 2017, while she was in court on the case of her husband, things were again moved by someone.
This morning, on 17 March, Natalia Balukh found a staircase on the street, attached to the very attic window on the roof of the house, where allegedly cartridges and dynamite were "discovered" during the search on 8 December, 2016,.
"I immediately called the precinct of Serebryanka Sergei Vlasenko and reported that someone was climbing to the attic, as a piece of linoleum covering the attic was moved," – said Natalia Balukh.
According to Balukh, she asked the district police officer to come and check the attic, since the woman herself is afraid to go up there.
But the policeman refused to come, citing the fact that he was on duty; basically the police officer refused to react to the statement of Natalia Balukh.
Recall that on 16 March in the "Razdolnensky District Court" there was the first court hearing regarding Vladimir Balukh. During the meeting, the testimony of four "witnesses" were heard, which were presented by the prosecution. They were fellow villager of Balukh, his wife and two employees of the Ministry of Internal Affairs