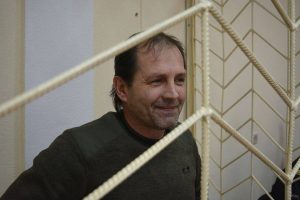 Today, on 23 June, the lawyer of Vladimir Balukh, who is the political prisoner of Ukraine, met with him in the prison of Simferopol. The lawyer told the Crimean human rights group that during the meeting he drew attention to the signs that indicate deterioration in the health of his client.
Balukh himself does not complaint, but his appearance doubt on the normal state of his health. The lawyer of the Ukrainian stated that he will independently apply for a full medical examination of the defendant.
Recall that on 1 June, 2017, the Supreme Court of Crimea (presiding judge, Galina Redko), by his ruling, left the appeal of Balukh's defence without satisfaction, but at the same time he changed the decision of the Razdolnensky district court, reducing the term of the activist's detention until 21 August, 2017 .
On 23 May, a court session took place, during which the issue of extending the detention of Ukrainian activist Vladimir Balukh was examined. "Judge" Maria Bedritskaya decided to extend the detention period to Vladimir Balukh until 4 September, 2017.
The defence of the activist drew the court's attention to the procedural violation – the court itself made a motion to extend the measure of restraint. Such demands were not received from the prosecutor. At the same time, according to lawyers, the prosecution did not provide any evidence pointing to the need to keep Vladimir Balukh in custody.
CHRG experts note that the measure of restraint chosen for Balukh is disproportionate to the public danger of the crime, in the commission of which he is accused. A blatant fact is that the defendant is held in custody for a tiny article without any serious grounds. At the same time, Balukh's health deteriorates; the chronic diseases are getting worse.
The FSS detained Balukh on the morning of 8 December last year. Employees of the FSS said that in the attic of the house where Vladimir Balukh lives, 90 cartridges and several TNTs were found.
The gross violations of fundamental human rights and the procedural rules of the de facto Russian legislation in Crimea, as well as unreasonable decisions to extend the term of detention, speak of fabricating a criminal case against Vladimir Balukh for political reasons.