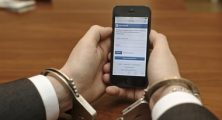 The so-called Crimean prosecutor's office has announced on its website about the legality of the criminal case against the resident of Kerch on the placing of extremist materials on the Internet.
"The prosecutor's office" reported that against the 36-year-old citizen of Kerch a criminal case under part 1 of Article 282 of the Criminal Code of Russian Federation (incitement of hatred or enmity on grounds of nationality, committed in public) was opened for a post on a social network "VKontakte"; namely "for spreading of Russophobian ideas in the network. "
Crimean human rights group has repeatedly recorded the facts of use of this article in Crimea for the prosecution of those who disagree with the policy of the Russian Federation.