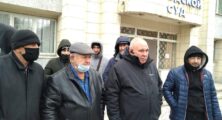 The Sudak City Court dismissed a motion of the defence of activist Ilver Ametov to return the case to the prosecutor to eliminate the violations.
This decision was made by Judge Elena Bossi during today's hearing, concluding not to return the criminal case. The hearing was held behind closed doors, the listeners were not allowed into the courthouse in order to prevent the spread of the new coronavirus infection.
According to the results of the hearing, lawyer Aleksey Rostovtsev said that the next hearing is expected to consider the repeated examination of the item seized from Ametov, which, according to the prosecution, is a firearm.
The next hearing is scheduled for 25 December.