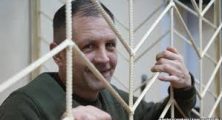 The Ukrainian will stay in the pre-trial establishment until January 4, 2017.
Today, on November 29, 2017, the "Supreme Court" of Crimea is considering two complaints of Vladimir Balukh's defenders
The court session ended on the complaint of the Crimean lawyer against the decision of the Razdolnoye District Court on October 24, 2017.
Then the "judge" Tedeeva Elena Anatolievna decided to leave the preventive measure against Vladimir Balukh unchanged. According to the preventive measure the Ukrainian was illegally kept in custody until January 16, 2018.
Today, the "Supreme Court" of Crimea upheld the lawyer's complaint and overturned the decision of "judge" Tedeeva. Thus, the previous decision on the period of detention remains in force until December 4.
As we have informed the FSB (FSS) detained the Crimean in the morning of December 8 last year, and since then, Balukh has been in custody.
On August 4, the "judge" of the Razdolnoye District Court, Maria Bedritskaya, sentenced Ukrainian activist Vladimir Balukh to 3 years and 7 months in a colony and a fine of 10,000 rubles.
Balukh was accused of illegal storage of ammunition and explosives, which were allegedly found in the attic of his house (Article 222 part 1, article 222.1 part 1 of the Criminal Code).
Balukh did not agree to confess his guilt. The defense of the Ukrainian stated that the case against the Ukrainian was fabricated and his verdict would be appealed in higher authorities.
the "Supreme Court of Crimea" made the annulment of the verdict against the Ukrainian activist Vladimir Balukh On October 2, 2017.
His criminal case was sent to a new judicial review in another court. The measure of restraint in the form of detention remained in force
Flagrant violations of fundamental human rights and procedural norms of de facto Russian legislation in Crimea, as well as unreasonable decisions to extend the term of detention indicate that a criminal case against Ukrainian activist Vladimir Balukh is fabricated for political reasons.