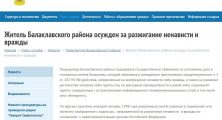 The young man received a suspended sentence for an illustration and an inscription in the social network, which, in the opinion of the "prosecutor's office", incited hatred for "law enforcement officers." On May 31, a message appeared on the website of the "Prosecutor's Office of Sevastopol" about the criminal case against a resident of the city, who was accused of inciting hatred and enmity.
"According to the investigation, a young man born in 1998, placed an image with an inscription aimed at inciting hatred and enmity towards the law enforcement agencies of the Russian Federation on his page in the social network" the press release said.
The prosecutor's office said that the "court" found the defendant guilty of committing a crime under Part 1 of Art. 282 of the Criminal Code of the Russian Federation (Actions aimed at inciting hatred or enmity on grounds of belonging to a social group). He was sentenced to two years' suspended imprisonment with a probationary period of 8 months.
The website of the "Balaklava District Court of Sevastopol" contains information on the conviction of Stukalo I.A. on the same article. The decision was ruled by the "court" on May 23, 2018.
On the website of Rosfinmonitoring in the section "The current list of extremists and terrorists" under the number 6582 there is information about the citizen Ilya Aleksandrovich Stukalo, born in 1998.
Being in the list of extremists and terrorists limits a person in access to banking services, and also makes it much more difficult for him to be employed