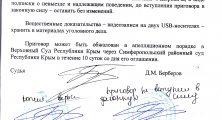 Yevgeniy Kostenko, the brother of the convicted in Crimea Ukrainian activist Alexander Kostenko, was fined for contempt of court (Part 2, Article 297 of the Criminal Code of the Russian Federation). On 8 July, 2016 the judge of the Simferopol district court Bereberov D.M. adjudged Yevgeny Kostenko guilty and sentenced to a fine of 60,000 rubles.
According to the verdict of the court, on 15 May 2015 Yevgeny Kostenko "got criminal intent to insult the judge Mozhelyanskiy V.A.".  Carrying out this "intent", he showed the middle finger to the judge. This action allegedly insulted the judge Mozhelyanskiy. The judge Berberov stated in his verdict that middle finger represents the male generative organ. The reasons of such associations of Crimean judges were not disclosed in the verdict.
Witnesses mentioned in the verdict confirm that Yevgeny Kostenko really showed a hand gesture when he was exiting from the courtroom. Most of the witnesses that were interviewed are employees of the court or former employees of the "Berkut". There are also conclusions of an unspecified "expert" in the case stating that this gesture can be identified as abusive. However, even this "expert" claims that this gesture cannot be interpreted unambiguously.
The above notwithstanding, as it is stated in the sentence for "the restoration of social justice," Yevgeny Kostenko was sentenced to a fine of 60 000 rubles. The fine must be paid within a month. As long as he does not pay the fine the measure of restraint regarding the house arrest and "good behaviour" is maintained in relation to him.
Let's recall that in Crimea on 15 May 2015 former Ukrainian judge Mozhelyanskiy sentenced the brother of Yevgeny Kostenko, Ukrainian activist Alexander Kostenko to 4 years and 2 months of imprisonment. The term of imprisonment was reduced on appeal. He was accused in the fact that he allegedly during protests in Kiev in February 2014 threw a stone at the "Berkut" officer, as well as in possession of weapons, based on the metal tube that was detected during the search of his house. Alexander Kostenko is situated in penal colony number 5 in Kirovo-Chepetsk, Kirov region, Russian Federation. At the moment criminal proceedings under Part 1 of Article 111 (high treason) were opened against Mozhelyanskiy V.A. and Berberov D.M. by General Procurator's Office of Ukraine.