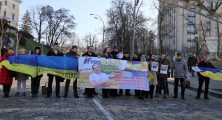 On December 8, 2017 in Kyiv activists held an action in support of the Ukrainian activist Vladimir Balukh convicted in the occupied Crimea.
"The Crimean Human Rights Group" and the Crimean Center for Business and Cultural Cooperation "Ukrainian House" have organized the action.
Activists put up a banner in support of Balukh on the bridge of Heavenly Hundred's Heroes.
Exactly one year ago on this day he hung out a sign " Heavenly Hundred's Heroes street" on his house in occupied Crimea, shortly after that the activist was arrested and a criminal case was brought against him.
The head of the Crimean Human Rights Group Olga Skrypnyk said about it in her speech.
"We know that Crimea in 2014 resisted Russian aggression, and today the resistance of Ukrainian Crimea continues. One of the symbols of such non-violent and peaceful resistance of Ukraine in Crimea is Vladimir Balukh. He is a wonderful strong man, a man among men" said Skrypnyk.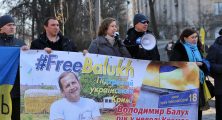 The human rights activist noted that when the people gathered in Kyiv on Maydan Nezalezhnosti, Balukh put up a Ukrainian flag over his house.
"And when the occupants came, when Russia illegally occupied our native Crimea, he still did not remove the Ukrainian flag from his house. First they came to scare him, then started an administrative case, then they took him away, beat him, but he returned and still did not take off the flag. Then, in 2015, the first criminal case was opened against him, an illegal search was carried out and the Ukrainian flag was removed, but he hung it once again. Another criminal case was opened against him, but still he was not scared, and he not only raised the flag of Ukraine, he also hung "Heavenly Hundred's Heroes street" sign on his house After that, they came to him and took him into custody, it was December 8, exactly one year ago " said Skrypnyk.
After the action, activists placed the banner in support of Vladimir Balukh on the bridge, located above Heavenly Hundred's Heroes street, urging everyone to be photographed near it and share these photos in social networks.