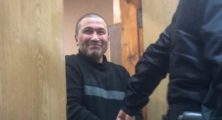 On June 25, 2020, a court session was held on "the case of Yunus Masharipov, a Crimean Tatar activist", in the "Supreme Court" of Crimea.
The panel of "judges", chaired by Konstantin Karavayev, upheld the decision of the 'Yalta Town Court' to place Yunus Masharipov in the mental hospital for in-patient treatment with intensive monitoring.
This was reported to the Crimean Human Rights Group by lawyer Aleksey Ladin.
"The court terminated the criminal case against my client in terms of his manufacturing the explosives, recognizing the right to rehabilitation. The act of seizing biological samples by the FSB men, that was done unattended by a lawyer, was suppressed from the evidence. The report of biological examination, according to which biological traces of my client were found on explosives, that were told to have been found in the garage of Masharipovm was also suppressed. That is, the court suppressed the key evidence that tied Masharipov to the storage of explosives. However, they left the charge for storage (explosives, – ed). "
As informed by Ladin, the court decided to place Masharipov in the mental hospital.
We would remind that on March 3, 2020, the 'Yalta Town Court'  decided to place Yunus Masharipov, a Crimean activist, in the mental hospital for inpatient treatment with intensive monitoring.
Mr. Yunus Masharipov was detained in Yalta by FSB men in September 2017. According to the investigation, Masharipov had manufactured several explosive devices and transported them to the church of St. Archangel Michael in the village of Oreanda in Yalta, in order to use them for setting fire to the neighboring forest and "destabilizing the socio-political situation in the region." Masharipov was said to have admitted to the crime once detained and informed also that he had bought unlawfully black powder and stored it in the garage.
At the court hearing on selecting a pre-trial restriction, Masharipov stated that he had evidenced against himself to FSB men under torture. However, the "court" did not take this information into account.
In the statement that Masharipov transmitted from the Crimea pre-trial detention center in 2017, he wrote that he had been engaged in human rights activities since 2014, "reporting to organizations about violations of the rights of children, disable people, and pensioners." According to the prisoner, the FSB officers planted the explosives in his garage, once he was detained in Yalta, he was beaten and tortured with electric current. Under torture, he testified on a video camera that he was "an agent of the SBU and carried out their tasks."
However, the 'Yalta Town Court' considered his initial testimony to the FSB and sentenced to 4 years in the general regime penal colony in November 2018. Masharipov's appeal was denied, but the cassation dismissed the first instance court decision, and sent the case for revision.