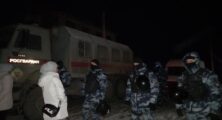 Ukrainian human rights organizations express a strong protest against the latest searches in homes of Crimean Tatars. As reported, on February 17, 2021 the occupying authorities in Crimea have again resorted to politically motivated criminal persecution of the Ukrainian citizens. Russian law enforcement services conducted searches in 7 homes of Crimean residents. 
Upon those searches Russian law enforcement services detained 7 people, including Ernest Ibrahimov, Oleh Fedorov, Azamat Eiupov, Lenur Seidametov, Abdulbori Makhamadaminov, Tymur Yalkabov and Yashar Shikhametov. All of the detained people were brought to the Directorate of the FSB in occupied Crimea. They were not given the information regarding the reasons for the detainment. Abdulbori Makhamadaminov has been released after interrogation.
The human rights community believes that those raids by Russian law enforcement services represent the attempts of the occupying authorities to destroy the remains of civic activism in Crimea. Four of the detained people are activists. Lenur Seidametov took part in delivering packages to political prisoners in detention centers. Oleh Fedorov attended politically motivated trials, participated in informational campaigns in support of Crimean Tatar political prisoners. He also provided financial help to families of political prisoners. Ernest Ibrahimov is an activist of "Crimean Solidarity" – a civic movement that regularly covers the situation around political prisoners and provides support to their families. He attended searches and trials against Crimean Tatar activists in Simferopol and Rostov-on-Don. He also coordinated deliveries of packages to political prisoners. Azamat Eiupov participated in a Crimean Tatar protest on a Red square in Moscow in July 2019.
We would like to stress that Crimean Tatars and civic activists are the most common targets of arbitrary searches, detentions, pressure and intimidation from the Russian occupying authorities.
Once again we emphasize that recent searches and detentions are a blatant violation of the norms of international humanitarian law that prohibit the imposition of the criminal law of the occupying state onto the occupied territory (Art. 64 of the IV Geneva Convention). In addition, persecution of an identifiable group or collectivity on political grounds is a crime against humanity, according to the Rome statute of the International Criminal Court (art. 7 (1) (h).
Given the arguments listed above we demand that the Russian Federation and the occupying authority of Crimea:
     

Immediately release all detained persons;

     

Conduct quick, effective and impartial investigation into the illegal detentions and bring those responsible to justice;

     

Stop the attempts to destroy civic activism and independent journalism in Crimea by conducting searches, detentions, criminal and administrative persecution of Ukrainian citizens that do not accept the occupation of Crimea;

     

Follow the norms of the international humanitarian law in the occupied Crimea, stop the arbitrary use of the Russian criminal law in order to suppress resistance to occupation.
We call on international organizations and governments of foreign states:
     

To continue pressure on the Russian government in order to stop persecution and repressions of groups of people, who do not accept the occupation of Crimea;

     

To condemn Russia for the use of its own anti-terrorist and anti-extremist legislation against the civic activists and independent journalists in temporarily occupied Crimea;

     

To enforce sectoral sanctions against the Russian Federation for the systematic violations of human rights, crimes against humanity as well as war crimes, committed in occupied Crimea.
Detailed information:
On February 17, 2021 around 4 am Russian law enforcement services conducted searches in homes of 7 people in 5 different settlements. In particular, it has been reported that searches were conducted in homes of Abdulbori Makhamadaminov in Radiansky administrative area, Azamat Eiupov in Bilohirsk, Tymur Yalkabov in Simferopol, Ernest Ibrahimov in Bakhchisaray, Oleh Fedorov in Bakhchisaray, Lenur Seidametov in Simferopol and Yashar Shikhametov in Sevastopol. As a result of searches Russian law enforcement officers seized passports (including Ukrainian passports) of the detained people. According to activists, the detained are being suspected of a crime under the article 205.5 ("Organizing the activities of a terrorist organization as well as participation in activities of such organization")
As of 9 am all detained persons were brought to the Directorate of the FSB in Simferopol for interrogation. The detained were not given information regarding the reasons of detainment. Abdulbori Makhamadaminov has been released after the interrogation.
The Prosecutor's Office of the Autonomous Republic of Crimea has started a criminal investigation into the illegal searches in homes of Crimean Tatar activists.
CrimeaSOS
Human Rights Center ZMINA
Association of Relatives of the Kremlin Political Prisoners
Center for Civic Liberties
Human Rights House Crimea
The Crimean Human Rights Group
 Media initiative for Human Rights
Ukrainian Helsinki Human Rights Union
Regional Center for Human Rights
Center of Civic Education "Almenda"