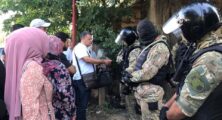 On July 7th, 2020 representatives of the Federal Security Service (FSB) of Russian Federation conducted searches in occupied Crimea. This resulted in arrest of 7 individuals: Seyran Khayretdinov, Oleksandr Sizikov, Emil Ziyadinov, Ismet Ibrahimov, Alim Sufyanov, Vadim Bektemirov and Zekirya Muratov . Following their arrest they were transferred to Simferopol headquarters of FSB.
According to the preliminary information available, the detainees are accused of organizing or participating in Hizb ut-Tahrir organization, which Russia has declared terrorist.
This is another wave of mass searches in Crimea (the last similar accident happened in March, 2020 ). Application of Russian Federation's antiterrorist legislation as a tool of persecuting Crimean Muslims, Crimean Tatar activists and citizen journalists has become a tradition of all the years of occupation of the peninsula.   
This way the list of Ukrainian political prisoners who are unlawfully detained in Russian Federation and in Russia-occupied Crime grew from 94 persons to at least 101. 77 out of 101 are Crimean Tatars.
Considering this we demand from Russian Federation and from the occupant administration in Crimea to:
immediately release all the detained individuals;

conduct quick, efficient and impartial investigation of the unlawful arrests and violent assaults in Crimea and bring the persons responsible for unlawful actions to responsibility;

release all the previously unlawfully arrested Ukrainian political prisoners and stop every form of persecution of Crimean Tatars, Crimean Muslims, activists and citizen journalists including administrative arrests, criminal accusations, confiscation of property and other repressive mechanisms.
We call upon international organizations and governments of foreign countries to:
continue applying pressure of Russian government for it to stop persecuting representatives of Crimean Tatar people as well as pro-Ukrainian activists in Crimea;

condemn Russian Federations' application of its antiterrorism and antiextremism legislation for the sake of persecuting lawyers, human rights defenders and activists in temporarily occupied Crimea;

strengthen sectoral sanctions against Russian Federation for systematic gross violations of human rights, crimes against humanity and war crimes, committed in occupied Crimea and impose personal sanctions against perpetrators.
Detailed information:
 On July 7th, 2020 Russian law enforcement units conducted mass searches in Chervonohvardiysk, Simferopol and Bakhchysarai districts of Crimea as well as in the city of Alushta which resulted in arrest of seven individuals.
First searches took place around 4am on July 7th. Lawyers were not allowed to access the locations under search. According to the information provided by Crimean Solidarity initiative, the law enforcement were confiscating phones, publicly available literature and personal computers.
Seven persons were arrested as the result of the searches: Seyran Khayretdinov, Oleksandr Sizikov, Emil Ziyadinov, Ismet Ibrahimov, Alim Sufyanov, Vadim Bektemirov and Zekirya Muratov. Dilyaver Memetov, whose house was also searched, was not found home, his whereabouts are currently unknown.
The arrested individuals openly stood against repressions in Crimea. For instance, Emil Ziyadinov is an activist and a video streamer; Ismet Ibrahimov and Alim Sufyanov are activists, the latter one was regularly attending court hearings in politically motivated trials;  Oleksandr Sizikov is a person with disability (disability group 1), he has completely lost his eyesight in 2009, he was performing single person demonstrations in defense of political prisoner Edem Smailov; Vadym Bektemirov is an activist and  a religious influencer; Seyran Khayretdinov is an organizer of Muslim religious feasts who had been actively attending court hearings against Crimean Tatars;   
According to preliminary information available, the arrested are accused of organizing or participating in Hizb ut-Tahrir organization, in line with Art. 205.5 of Criminal Code of Russian Federation.
The video provided by Crimean Solidarity movement.
Ukrainian Helsinki Union for Human RIghts
Human Rights Center ZMINA
Center for civil education "Almenda"
Center for Civil Liberties
NGO CrimeaSOS
Crimean Human Rights Group
Human Rights Center DIYA