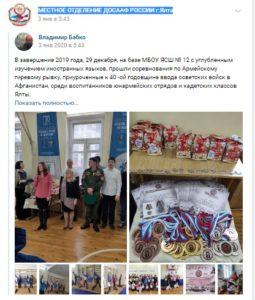 On December 29th Army Jerk Weight Lifting Competition was held in Yalta hosted by secondary school no 12 with in-depth study of foreign languages.
This was reported by DOSAAF Yalta Division in VKontakte social network group.
The organizers write that the event was coincided with the 40th anniversary of the Soviet troops ground invasion in Afghanistan. Over 35 pupils trained in 'Yunarmia units' and 'cadet forms' of Yalta – participated in the competition.
The competition preparation was contributed by Afghanistan war veterans, school administration, DOSAAF staff, town authorities and representatives of Yalta sports clubs.
The opinion of the The Crimean Human Rights Group (CHRG) experts is that the Russian occupation authorities are consistent in implementing the policy of militarization of children and teenagers in Crimea. They use such actions as a tool for military propaganda among the minor Crimeans, preparing them to the service in the RF army that constitutes a gross violation of the international humanitarian law points.