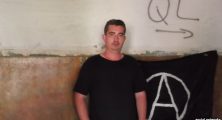 Sergey Vasilchenko intends to appeal the decision of the Yevpatoria court, according to which he was under administrative arrest from 3 to 13 November. He was found guilty in violation of a law for posting publication in a social network.
Vasilchenko reported to Crimean human rights group about the ignoring by the court the fact that the record «La Vida Cuesta Libertades – Black Terror" and «La Vida Cuesta Libertades -Goodbye Capitalism!" were published on 12 July 2014, and they were added to the list of  extremist materials later – only on 26 February 2016. This is another example of the application of retroactive legislation (post facto law) in Crimea for the persecution of activists. Crimean human rights group has recorded the similar decision on the penalty to Alexei Shestakovich for publishing content that was not recognized as extremist at date of postingt of it on the social network.
In addition, in the protocol on administrative violation, compiled on Vasilchenko, there is no data on the witnesses and signature of Sergei Vasilchenko. The protocol also does not specify the circumstances of identifying and committing the "offenses". The protocol on administrative offense against Vasilchenko was made by the Major Shambazov R.R. In September 2016 he also made the protocol in respect of Alexei Shestakovich for a post in the social network  and in January 2016 detained blogger Zair Akadyrov.
Recall that an activist from Yevpatoriya Sergey Vasilchenko was detained on 3 November; the local court found him guilty of violating Articlr 20.29 of the Administrative Code of the Russian Federation (mass distribution of extremist materials) and sentenced to 10 days of administrative arrest. On 13 November after serving a full term of arrest, the activist was released